評級:二級歷史建築八座(A座、B座、C座、M座、P座、R座、門診室及 Isolation Block)﹔三級歷史建築兩座(平房設施)
由於人口不斷增加,在1920年成立的九龍居民聯會致函殖民地政府,要求在九龍設立醫院,讓區內居民免受誇區求診之苦。因此,九龍區內首間公立醫院於1925年建成,當時只有兩幢大樓,其後於1932至1938年間多次擴建,另外有兩座平房建於日佔時期後。後來於1963年落成的伊利沙伯醫院成為九龍區內主要的公立醫院,九龍醫院遂轉為胸肺專科並以療養服務為主。
九龍醫院是低密度院舍,有中西合璧的建築風格,A至R座以青磚建造,有歇山式或廡殿式瓦頂,其中三座建築屋脊的末端和屋頂的角落飾有牛角裝飾;建築物亦見牛眼窗、圓拱遊廊等古典復興風格設計。
粵語:

國語:

Grading: Grade 2 (Block A, Block B, Block C, Block M, Block P, Block R, Outpatient Block & Isolation Block); Grade 3 Historic Building (Two Utility Building)
Considering the growing population in the area, the Kowloon Residents' Association — established in 1920 — once wrote to the colonial government and asked for a hospital to be built in Kowloon, so that patients didn't have to travel to other districts to seek medical consultation. Completed in 1925, the first public hospital in the Kowloon district consisted of two blocks in the beginning. The building then underwent several expansions between 1932 and 1938, and two bungalows were built during the Japanese occupation of Hong Kong. In 1963, the Queen Elizabeth Hospital was built and became the major public hospital in the district. The Kowloon Hospital was later converted into a chest clinic, providing primarily infirmary care services.
The Kowloon Hospital is a low-density complex combining Chinese and Western architecture. Blocks A to R are green-brick structures, with some featuring hip-and-gable roofs and others emphasising their hipped tiled roofs. Bull horn ornaments can be found at the end of the roof ridges and the roof corners of three of the building blocks. Other building features, such as the bull's-eye windows and the arched verandas, display a Classical Revival design.
「『古蹟留聲機』- 細聽100個香港古蹟小故事」計劃由衞奕信勳爵文物信託資助。
The project is supported by Lord Wilson Heritage Trust.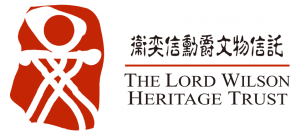 / 關於我們
CACHe於2005年成立,一直積極舉辦古蹟保育活動。我們將繼續秉承宗旨,推廣香港歷史文化,建立知識交流平台,鼓勵大眾參與社區文化遺產保育,建立社區身份認同。
/ 查詢方法
電話: 2291 0238
電郵: info@cache.org.hk
網頁: www.cache.org.hk