鳴謝劉國偉先生提供照片。 Photos courtesy of Mr Lau Kwok Wai.
評級:二級歷史建築兩座(主樓、平房)
何東爵士早於1910年代已有留意新界發展,其元配麥秀英女士早年購入上水金錢村附近的農地,興建東英學圃,又名上水何東花園。經常出入上水的她,非常關心附近村民,除了曾捐建義學,更因發現當地醫療服務不足,而將何東送贈的結婚周年贈款捐給政府,條件是須在古洞興建診所。
建於1932年的何東夫人醫局由主樓和平房組成,以有蓋行人道連接,是新界最早期的鄉郊診所之一。醫局在1934年啟用後主要用作產科中心和印度軍人療養所,其後改為普通科門診,至2005年因屋頂破損而關閉並空置,未來將活化成生態研習中心。
粵語:

國語:

Grading: Grade 2 (Main Block & Bungalow)
Since the 1910s, Sir Robert Ho Tung had been keeping an eye on the developments in the New Territories. His first wife, Margaret Mak Sau-ying, bought a farmland near Kam Tsin Village in Sheung Shui, where Tung Ying Hok Po — also known as Sheung Shui Ho Tung Garden — was built. Mak visited Sheung Shui frequently, showing a lot of care to villagers in the area. She once funded the construction of a free school in Sheung Shui. She also donated the money given by her husband as a wedding anniversary gift to the government for building a clinic in Kwu Tung, after noticing an insufficient supply of local healthcare services there.
Built in 1932, Lady Ho Tung Welfare Centre comprises a main house and a small cottage, which are connected by a covered walkway. It is one of the first rural clinics in the New Territories. After the centre was opened in 1934, it served mainly as a maternity centre as well as a sanatorium for Indian soldiers. It was later converted into a general outpatient clinic. Since 2005, the site has been closed and left vacant due to damages in the roof. The centre is expected to be revitalised and transformed into an ecology discovery centre in future.
「『古蹟留聲機』- 細聽100個香港古蹟小故事」計劃由衞奕信勳爵文物信託資助。
The project is supported by Lord Wilson Heritage Trust.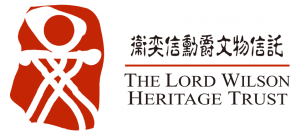 / 關於我們
CACHe於2005年成立,一直積極舉辦古蹟保育活動。我們將繼續秉承宗旨,推廣香港歷史文化,建立知識交流平台,鼓勵大眾參與社區文化遺產保育,建立社區身份認同。
/ 查詢方法
電話: 2291 0238
電郵: info@cache.org.hk
網頁: www.cache.org.hk