鳴謝劉國偉先生提供照片。 Photos courtesy of Mr Lau Kwok Wai.
評級:法定古蹟
下白泥碉堡是孫中山及其革命黨人的辛亥革命軍事基地之一。孫中山的追隨者李紀堂於1901年在香港屯門開設青山農場,用以儲存軍火、試行射擊和接濟逃命的革命人士。1910年廣州新軍起義失敗後,興中會成員鄧蔭南來到人煙罕至的下白泥設置軍事基地,興建碉堡作監視之用。方形的碉堡外觀平實,樓高兩層,以青磚建成,外牆上下均設有槍孔作防禦,窗戶更有特別設計讓人從內望向外的視野更廣闊。
革命成功後,革命後人趙氏數代居於碉堡,後因結構安全問題而遷出。碉堡在2011年被列為法定古蹟後曾進行數次修葺和加固工程。
粵語:

國語:

Grading: Declared Monument
The fortified structure at Ha Pak Nai was one of the military bases used by Sun Yat-sen and his comrades during the 1911 Revolution. In 1901, Li Ki-tong, a follower of Sun, set up the Castle Peak Farm in Tuen Mun as a place to store and experiment with firearms, and assist the fleeing revolutionaries. In 1910, after the failure of the Guangzhou New Army Uprising, Tang Yam-nam, a member of the Revive China Society, established a military base at the sparsely populated area of Ha Pak Nai, where a fortified structure was built for monitoring the border. Constructed of green brick, the two-storey high rectangular structure features a simple design, with both the upper and lower parts of its outer wall built with embrasures for defence. The windows were specially designed to provide people in the building with a wider view of the outside.
Following the success of the revolution, the fortified structure had, for decades, been resided by the Chiu family — descendants of one of the revolutionaries — who later moved out due to structural safety problems of the building. The fortified structure was declared a statutory monument in 2011, after which several repair and strengthening works have been carried out.
「『古蹟留聲機』- 細聽100個香港古蹟小故事」計劃由衞奕信勳爵文物信託資助。
The project is supported by Lord Wilson Heritage Trust.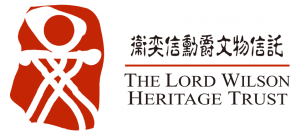 / 關於我們
CACHe於2005年成立,一直積極舉辦古蹟保育活動。我們將繼續秉承宗旨,推廣香港歷史文化,建立知識交流平台,鼓勵大眾參與社區文化遺產保育,建立社區身份認同。
/ 查詢方法
電話: 2291 0238
電郵: info@cache.org.hk
網頁: www.cache.org.hk