在國共內戰後期,不少國民政府的軍人及家眷湧入香港,被安置到摩星嶺難民營。在1950年初,國共兩黨的支持者發生秧歌舞事件,衝突使殖民地政府將國民政府難民遷到調景嶺以分開兩個陣營,因此這裏有「小台灣」之稱。1956年於九龍區發生雙十暴動後,殖民地政府決定於1962年建成調景嶺警署監視村民。居高臨下的調景嶺警署,瞭望塔上裝有強力探射燈,藉以監視和震懾難民。為配合將軍澳新市鎮發展,調景嶺內的寮屋在1996年開始清拆。1999年,從1950年代開始立足調景嶺、被老村民視為「調景嶺村民祠堂」的普賢佛院租用警署部份位置作佛堂。2014年,西貢區議會要求佛院搬遷,並宣佈將舊調景嶺警署改建為推廣將軍澳發展歷史的資料館。
粵語:

國語:

Towards the end of the Chinese Civil War, many Kuomintang soldiers and their families fled to Hong Kong and were settled in the refugee camp at Mount Davis. In early 1950, violent clashes took place at Mount Davis between former soldiers of the Kuomintang Party and some pro-Beijing unionists, who sang and danced near the refugee camp to show their support for the Chinese Communist Party. To separate the two groups of people, the British government relocated the former Kuomintang soldiers to Rennie's Mill (or Tiu Keng Leng), a place that became known as "Little Taiwan". In 1956, Double Tenth riots erupted in Kowloon as provocations between the pro-Nationalist and the pro-Communist factions escalated. In 1962, the British government decided to build a police station to monitor the Rennie's Mill residents. Situated on the hill that overlooks the squatter settlement, the Rennie's Mill Police Station (or Tiu Keng Leng Police Station) had a guard tower with a powerful searchlight. In 1996, the government started clearing the squatter areas to make space for developing Tseung Kwan O new town. In 1999, part of the old police station was rented out and became home to Po Yin Fat Yuen, a Buddhist temple that was regarded as the ancestral hall of the Rennie's Mill residents. In 2014, the government announced its plan to revitalise the police station into an information centre introducing the development history of Tseung Kwan O.
「『古蹟留聲機』- 細聽100個香港古蹟小故事」計劃由衞奕信勳爵文物信託資助。
The project is supported by Lord Wilson Heritage Trust.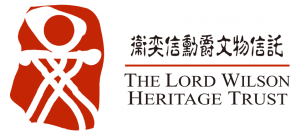 / 關於我們
CACHe於2005年成立,一直積極舉辦古蹟保育活動。我們將繼續秉承宗旨,推廣香港歷史文化,建立知識交流平台,鼓勵大眾參與社區文化遺產保育,建立社區身份認同。
/ 查詢方法
電話: 2291 0238
電郵: info@cache.org.hk
網頁: www.cache.org.hk