評級:一級歷史建築
一向以豪華見稱的半島酒店於1927年落成,是香港現存歷史最悠久的酒店。酒店充滿意大利文藝復興和巴洛克建築風情,內部設計氣派,是當時富豪和名人熱門的聚腳地。酒店於1970年代開始以名車勞斯萊斯接送客人,擁有龐大的名車車隊。酒店原本樓高七層,至1991年才進行擴建工程,在北面大樓頂樓加建一幢三十層的新翼,新翼頂樓更設有直昇機場。
有逾九十年歷史的半島酒店亦曾與香港經歷過不少黑暗歲月。1941年,時任港督楊慕琦在酒店336號房簽下投降書,標誌着香港正式淪陷,其後日軍更佔用酒店作為臨時行政指揮總部。
粵語:

國語:

Grading: Grade 1
Renowned for its luxury, the Peninsula Hotel is the oldest hotel in Hong Kong. Completed in 1927, the hotel has a magnificent interior, designed in Italian Renaissance and Baroque architectural styles. Popular among the rich and famous, the hotel owns a large fleet of Rolls-Royces, which has been used for transporting guests since the 1970s. The hotel building, which had seven floors above ground originally, underwent expansion in 1991. A thirty-storey new wing was added to the top floor of the north tower, with a helipad built on the roof.
With over ninety years of history, the Peninsula Hotel has had its dark times in the city. In 1941, Sir Mark Aitchison Young, the then Governor of Hong Kong, surrendered to the Japanese in Room 336 of the hotel. The event marked the fall of Hong Kong and the beginning of the Japanese occupation. The hotel was then used by the Japanese army as their temporary headquarters at the time.
「『古蹟留聲機』- 細聽100個香港古蹟小故事」計劃由衞奕信勳爵文物信託資助。
The project is supported by Lord Wilson Heritage Trust.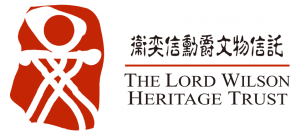 / 關於我們
CACHe於2005年成立,一直積極舉辦古蹟保育活動。我們將繼續秉承宗旨,推廣香港歷史文化,建立知識交流平台,鼓勵大眾參與社區文化遺產保育,建立社區身份認同。
/ 查詢方法
電話: 2291 0238
電郵: info@cache.org.hk
網頁: www.cache.org.hk