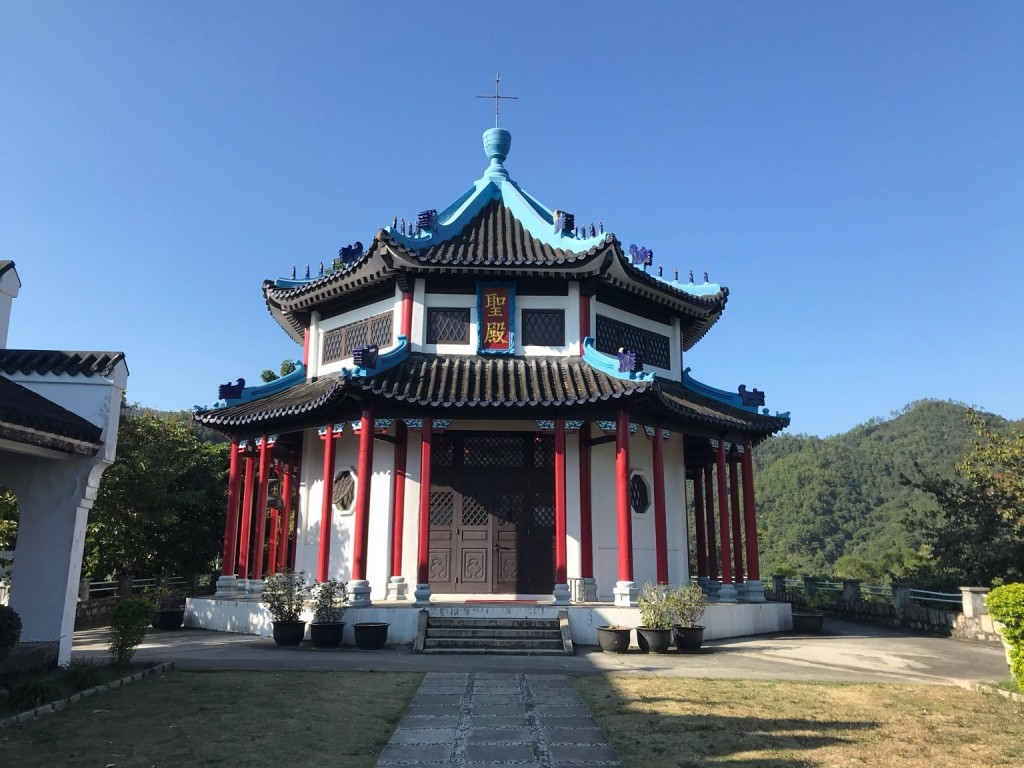 評級:二級歷史建築
  在沙田仰望群山,總是遙見一個十字架屹立其上,這正是道風山所在之地。傳教士艾香德牧師(Karl Ludvig Reichelt)到湖南傳道後對佛教產生濃厚興趣,曾在南京創立景風山,開放佛教及道教徒一同交流。1931年他南下香港繼續宣教,並創辦道風山基督教叢林。
  道風山有別於一般基督教靈修地,處處可見中式設計。聖殿有傳統中式廟宇的八角攢尖頂,用上紅柱、白牆、青頂,簷上用僧侶的尊像代替傳統脊獸和仙人造型。正門旁邊的銅鐘是南京景風山的古物,鑄有蓮花十字架。感恩亭裏的瓷磚上,以水墨畫風格繪上不同聖經故事,中西合壁,甚是有趣。
粵語:

國語:

Grading: Grade 2
If you look up to the mountain range in Sha Tin, you'll see from a distance a white cross standing on a hill that overlooks the town. That's where Tao Fung Shan is. Norwegian Lutheran missionary Karl Ludvig Reichelt developed a strong interest in Buddhism after he had preached in Hunan of China in the 1900s. He then established Ching Fong Shan in Nanjing to promote exchanges between Buddhists and Taoists. In 1931, he travelled south to Hong Kong to continue with his missionary work, and founded Tao Fong Shan Christian Centre.
Unlike other places for Christian spiritual retreats, Tao Fong Shan Christian Centre incorporates many Chinese design features. The Lutheran Church is an octagonal structure reminiscent of a traditional Chinese temple, with red columns, white walls and a turquoise roof. The roof ridges are decorated with small statuettes of Buddhist monks, as opposed to animal or mythical figures commonly found in Chinese-style temples. A bronze bell is hanged next to the front door of the temple. It is a relic of Ching Fong Shan cast with a Tao Fong Shan's symbol — a cross rising out of a lotus. The nearby Thanksgiving Pavilion is decorated with a set of tile paintings, each portraying a story from the Bible. Rendered in the style of Chinese ink paintings, the decoration is an interesting combination of Chinese and Western elements.
「『古蹟留聲機』- 細聽100個香港古蹟小故事」計劃由衞奕信勳爵文物信託資助。
The project is supported by Lord Wilson Heritage Trust.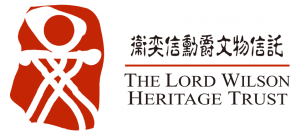 / 關於我們
CACHe於2005年成立,一直積極舉辦古蹟保育活動。我們將繼續秉承宗旨,推廣香港歷史文化,建立知識交流平台,鼓勵大眾參與社區文化遺產保育,建立社區身份認同。
/ 查詢方法
電話: 2291 0238
電郵: info@cache.org.hk
網頁: www.cache.org.hk