評級:一級歷史建築
在香港開埠初期,建築大多依山而建,當時砵典乍街連接了山上的荷李活道和山下的皇后大道中,這一段路格外陡峭,故用大石塊一塊高一塊低地鋪蓋路面,又名「石板街」。這獨特設計方便行人上落,也讓雨水迅速從兩旁瀉走。
1858年,殖民地政府將此街道命名為砵典乍街,以紀念第一任香港總督砵甸乍爵士 (Sir Henry Pottinger)。
獨一無二的「石板街」早於1960年代已經聞名中外,成為外國圖書、雜誌、甚至電影鏡頭的取材之地。殖民地政府也對此相當重視,在1961年曾不惜工本,派出工人逐呎翻新整段石板路,同時去除路上的污積和修補崩缺之處。
粵語:

國語:

Grading: Grade 1
During the early days of Hong Kong, most parts of the city were built on hills. A section of the Pottinger Street — a pedestrian path connecting Hollywood Road on the hill and Queen's Road Central down the hill — was particularly steep. It was paved with uneven slabs of cobblestone to facilitate walking up and down the slope, and was therefore known to the locals as "Stone Slab Street". The special design also allowed rainwater to flow along the kerbs.
In 1858, the colonial government named the street after Sir Henry Pottinger, the first governor of Hong Kong.
Featured in many foreign books, magazines, and films, "Stone Slab Street" has been internationally known for its unique design since the 1960s. Noticing the importance of the street, the colonial government poured great resources into its maintenance and preservation in 1961. Workers were asked to renovate every stone of the pavement and remove any stains or decayed portions from it.
「『古蹟留聲機』- 細聽100個香港古蹟小故事」計劃由衞奕信勳爵文物信託資助。
The project is supported by Lord Wilson Heritage Trust.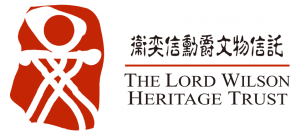 / 關於我們
CACHe於2005年成立,一直積極舉辦古蹟保育活動。我們將繼續秉承宗旨,推廣香港歷史文化,建立知識交流平台,鼓勵大眾參與社區文化遺產保育,建立社區身份認同。
/ 查詢方法
電話: 2291 0238
電郵: info@cache.org.hk
網頁: www.cache.org.hk