城皇街是條百年石梯路,名字源自附近已清拆的城隍廟。城皇街兩邊的社區昔日稱作「卅間」,有一列三十間的房屋建於開闢山坡而來的平台之上,居民會在屋前的公共空間聚會,鄰里關係因此非常緊密。
鄰近的永利街,因2010年在此取景的電影《歲月神偷》屢獲殊榮而聲名大噪。當時永利街保留了十二幢戰後唐樓和舊時代的生活風貌,吸引電影在此取景。永利街在1970年代時曾是小型印刷廠集中地,與鄰近街道一同見證香港印刷業的輝煌歲月。永利街現為保育區,但當中唐樓經過翻新後已失去昔日平民社區的氣息。
粵語:

國語:

Named after the now demolished Shing Wong Temple in the neighbourhood, Shing Wong Street is a century-old street of stone steps constructed on a hill. A row of thirty houses was built along the street, forming a community known as the "Thirty Houses". Closely connected with each other, the local residents here used to get together in the public space in front of the houses.
  
Wing Lee Street, a neighbouring street, was a major filming location for the award-winning film, Echoes of the Rainbow. Containing twelve post-war tenement buildings, the street drew wide attention after the movie was shot in 2010. The historic buildings were the reason for the filming to take place there, as they represented the way of living in the past. Home to many printing houses in the 1970s, Wing Lee Street and the neighbourhood witnessed the heyday of Hong Kong's printing industry. Placed under conservation by the government, some of the tenement buildings on the street have been renovated. The restored buildings are, however, considered to have lost the distinctive qualities that characterised the place as a grassroot community.
「『古蹟留聲機』- 細聽100個香港古蹟小故事」計劃由衞奕信勳爵文物信託資助。
The project is supported by Lord Wilson Heritage Trust.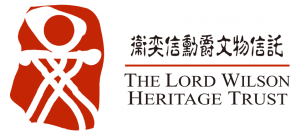 / 關於我們
CACHe於2005年成立,一直積極舉辦古蹟保育活動。我們將繼續秉承宗旨,推廣香港歷史文化,建立知識交流平台,鼓勵大眾參與社區文化遺產保育,建立社區身份認同。
/ 查詢方法
電話: 2291 0238
電郵: info@cache.org.hk
網頁: www.cache.org.hk