墳場通常予人陰森之感,來到西灣國殤紀念墳場,你卻會發現她是例外。整齊排列的墓碑和清幽的環境絲毫沒有恐怖感,背後還有一段為香港犧牲的故事。
1941年日軍進攻香港,當時香港約有一萬三千名由英國、加拿大、印度及華人組成的守軍。這群異邦軍人,敵眾我寡時仍負隅頑抗,展開一場為期十八日的「香港保衛戰」,可惜最後無法扭轉局勢。墳場安葬的,大部份是在二戰時犧牲或被俘後死亡的將士。墳場入口之白色小屋的牆上,大幅的碑石刻有二千多名於戰時殉難卻無法尋回屍體的軍人名字。至今,仍有團體每年在墳場舉辦紀念活動。
粵語:

國語:

Most cemeteries give people a spooky feeling, but Sai Wan War Cemetery is an exception. Here, tombstones are neatly arranged in a scenic and tranquil environment that counters the image of a terrifying cemetery. Behind each grave, there lies a story of sacrifice.
During the Japanese invasion in 1941, the Hong Kong garrison — composed of about 13,000 soldiers from the British, Canadian, Indian and Chinese — fought in defence of the city. Despite long odds, these foreign soldiers fought on for 18 days in what became known as the Battle of Hong Kong, but failed to turn the tide. Most of the soldiers who died in the battle or subsequently in captivity were buried in the Sai Wan War Cemetery. The wall of the white cottage at the entrance is engraved with more than 2,000 names of military casualties whose bodies were never recovered. Every year, commemorative activities are held at the cemetery in remembrance of the deceased.
「『古蹟留聲機』- 細聽100個香港古蹟小故事」計劃由衞奕信勳爵文物信託資助。
The project is supported by Lord Wilson Heritage Trust.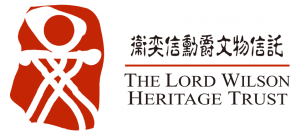 / 關於我們
CACHe於2005年成立,一直積極舉辦古蹟保育活動。我們將繼續秉承宗旨,推廣香港歷史文化,建立知識交流平台,鼓勵大眾參與社區文化遺產保育,建立社區身份認同。
/ 查詢方法
電話: 2291 0238
電郵: info@cache.org.hk
網頁: www.cache.org.hk