評級:法定古蹟一座(紀念碑);一級歷史建築三座(主壩、水掣房及鐘形溢流口);二級歷史建築一座(鐵橋)
在殖民地政府租借新界後,水塘選址開始擴展至新界,為市區提供食水。1923年,殖民地政府於荃灣以北的城門谷興建大型水塘,將存水經九龍接收水塘供水至九龍半島,並透過海底輸水管,供水予人口密集的香港島。水塘落成後,容量約佔當時香港總儲水量一半。城門水塘以炸藥代替人手挖掘,但由於工程時間緊迫,導致意外頻生,興建過程十分艱難。
1935年,為慶祝英王喬治五世登基銀禧紀念,水塘改名為「銀禧水塘」,但港人仍愛沿用其舊稱。城門水塘一帶更曾在二戰期間成為守衛九龍半島的要點。
粵語:

國語:

Grading: Declared Monument (Memorial Stones of Shing Mun Reservoir); Grade 1 Historic Building (Gorge Dam, Valve Tower & Bellmouth Overflow); Grade 2 Historic Building (Steel Bridge)
After leasing the New Territories from China, the British extended the search for reservoir sites into other districts in order to ensure the water supply in the urban region. In 1923, a large reservoir was built in the Shing Mun Valley, situated in the north of Tsuen Wan. Its storage equalled nearly half of the total capacity of all Hong Kong reservoirs at the time. The water collected was transferred to the Kowloon Reception Reservoir and supplied to the Kowloon Peninsula as well as the Hong Kong Island through cross-harbour pipelines. The construction of Shing Mun Reservoir was arduous. Several accidents happened during the excavation, which was carried out using explosives instead of manual labour.
In 1935, to celebrate the silver jubilee of King George V's accession, the reservoir was renamed the Jubilee Reservoir, although it is still popularly referred to by its original name. Shing Mun Reservoir also served as an important point of defence in the Kowloon Peninsula during the Second World War.
「『古蹟留聲機』- 細聽100個香港古蹟小故事」計劃由衞奕信勳爵文物信託資助。
The project is supported by Lord Wilson Heritage Trust.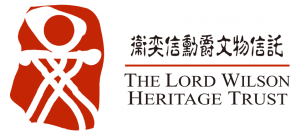 / 關於我們
CACHe於2005年成立,一直積極舉辦古蹟保育活動。我們將繼續秉承宗旨,推廣香港歷史文化,建立知識交流平台,鼓勵大眾參與社區文化遺產保育,建立社區身份認同。
/ 查詢方法
電話: 2291 0238
電郵: info@cache.org.hk
網頁: www.cache.org.hk