鳴謝李澤恩先生提供照片。 Photos courtesy of Mr Stanley Lee.
評級:法定古蹟七座(量水站、前看守員房舍及五座石橋);二級歷史建築三座(方形暗渠、土堤及舊石壩);三級歷史建築一座(配水庫通風口)
缺乏水資源,是香港開埠之初的最大挑戰。面對迅速增長的人口和用水需求,只靠水井和溪流等原始水源並不足夠,殖民地政府曾在1859年懸賞一千英鎊以尋求「搵水大計」。政府在港島西部薄扶林谷地興建全港第一個水塘,除了因為選址鄰近民居,亦因山谷地勢陡峭,能讓蓄水順着山勢向下流進水塘內。由於經費有限,1863年落成的水塘存水容量僅夠當時港島居民四天之用。因此政府在1866至1877年間多次擴建水塘,在原有水壩東北方加建一道新水壩以提升儲水量。目前薄扶林水塘仍保留着兩代水壩。
粵語:

國語:

Grading: Declared Monument (Gauge Basin, Former Watchman's Cottage & Five Masonry Bridge); Grade 2
(Box Culvert, Embankment & Old Masonry Dam); Grade 3 (Air Vents at the Service Reservoir)
Water shortage was the biggest challenge faced by Hong Kong during its early days. With the rapid increase in population, it was impossible to satisfy the growing needs for water by solely relying on basic sources, such as wells and streams, for the city's water supply. In 1859, the colonial government offered a reward of one thousand pounds sterling to solicit proposals for alternative water sources. It later built the city's first reservoir in the Pok Fu Lam valley in the western part of Hong Kong Island. The site was chosen due to its proximity to residential areas and its steep terrain that allowed rainwater to flow into the reservoir more effectively. Owing to a limited budget, the storage of the reservoir could only sustain the residents of Hong Kong Island for four days at that time. Therefore, between 1866 and 1877, the government expanded the reservoir several times, adding a new dam at the north-east of the original one to increase water storage. Both dams of the Pok Fu Lam Reservoir have been preserved to the present.
「『古蹟留聲機』- 細聽100個香港古蹟小故事」計劃由衞奕信勳爵文物信託資助。
The project is supported by Lord Wilson Heritage Trust.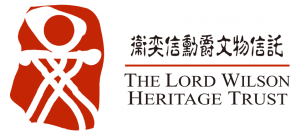 / 關於我們
CACHe於2005年成立,一直積極舉辦古蹟保育活動。我們將繼續秉承宗旨,推廣香港歷史文化,建立知識交流平台,鼓勵大眾參與社區文化遺產保育,建立社區身份認同。
/ 查詢方法
電話: 2291 0238
電郵: info@cache.org.hk
網頁: www.cache.org.hk