鳴謝張朝敦先生提供照片。 Photos courtesy of Mr Charlton Cheung.
大家經過中環扶手電梯時有否留意過這些被鐵絲網包圍的古牆?眼前由青磚和花崗石建造的古牆遺跡屬於1879至1880年間建成的十幢唐樓群,是現存香港最古老的民房遺跡。自1903年政府為避免鼠疫傳播、立法規定唐樓背後必須留有後巷開始,這遺跡便成為香港現時碩果僅存的「背靠背」建築。
傳奇華人女子吳阿嬌亦曾居住在這唐樓群,她「被洋人保護的婦女」的身份,揭示了吉士笠街被稱為「紅毛嬌街」的故事,更反映出早期香港華洋雜處的文化。
市建局現計劃原址保留其中一段遺跡,並興建博物館展示昔日舊唐樓和庶民的生活面貌。
粵語:

國語:

While riding on the Mid-Levels escalator, do you see below you some old walls that are surrounded by wire fencing? Built of blue brick and granite stone, these walls are the oldest house remains in Hong Kong that belong to ten tenement houses constructed between 1879 and 1880. To prevent the spread of the bubonic plague, the government enacted laws that required a sanitary lane to be built behind buildings that were erected after 1903. These old walls became the remnants of one of the few remaining back-to-back building structures in Hong Kong.
The legendary Chinese woman Ng Akew was a resident of one of these tenement houses. Her identity as a 'protected woman' at that time revealed the story of Gutzlaff Street—popularly known as 'Red-haired Dame Street'—and speaks about the culture of early Hong Kong as a multicultural city inhabited by Chinese and Westerners.
The Urban Renewal Authority is planning to preserve part of the remains and build a museum to exhibit the architecture of old tenement houses and the lives of people who resided there.
「『古蹟留聲機』- 細聽100個香港古蹟小故事」計劃由衞奕信勳爵文物信託資助。
The project is supported by Lord Wilson Heritage Trust.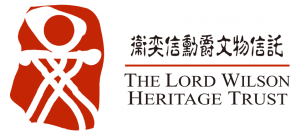 / 關於我們
CACHe於2005年成立,一直積極舉辦古蹟保育活動。我們將繼續秉承宗旨,推廣香港歷史文化,建立知識交流平台,鼓勵大眾參與社區文化遺產保育,建立社區身份認同。
/ 查詢方法
電話: 2291 0238
電郵: info@cache.org.hk
網頁: www.cache.org.hk