評級:二級歷史建築
在奪目的舊贊育醫院旁邊,有一座不顯眼的小白屋,是於1909年建成的西約方便所,同樣是港府在鼠疫爆發時推行的實驗項目之一,希望增加區內的醫療設施,遏止鼠疫傳播。
西約方便所樓高兩層,由白牆紅磚建成,曾專門接收區內鼠疫患者,為病人提供住院服務和治療。小白屋後方有一座昔日用作殮房的小石屋,一直保留至今。由於鼠疫在1930年代開始受控,加上方便所的鄰居——舊贊育醫院需要更多空間,便將護士宿舍搬遷至方便所的一樓。現時小白屋為長春社文化古蹟資源中心的辦公室。
粵語:

國語:

Grading: Grade 2
Next to the conspicuous Old Tsan Yuk Maternity Hospital is a small white house, which is relatively less obtrusive. It is the site of the Western Public Dispensary. Built and completed in 1909, the dispensary was one of the experimental projects launched by the Hong Kong government during the outbreak of the bubonic plague, as an effort to increase medical facilities and contain the spread of the plague.
The Western Public Dispensary is a two-storey building constructed of red brick, with a façade painted in white. It received patients with bubonic plague, providing them with in-patient services and medicine treatment. Behind the small white house is a stone cottage that was used as a mortuary and has been preserved until this day. As the plague started to come under control in the 1930s, the first floor of the dispensary became the nursing dormitory of the neighbouring Old Tsan Yuk Maternity Hospital, which needed space for expansion at the time. The small white house is now used as the office of the Conservancy Association Centre for Heritage.
「『古蹟留聲機』- 細聽100個香港古蹟小故事」計劃由衞奕信勳爵文物信託資助。
The project is supported by Lord Wilson Heritage Trust.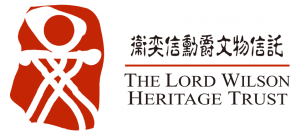 / 關於我們
CACHe於2005年成立,一直積極舉辦古蹟保育活動。我們將繼續秉承宗旨,推廣香港歷史文化,建立知識交流平台,鼓勵大眾參與社區文化遺產保育,建立社區身份認同。
/ 查詢方法
電話: 2291 0238
電郵: info@cache.org.hk
網頁: www.cache.org.hk