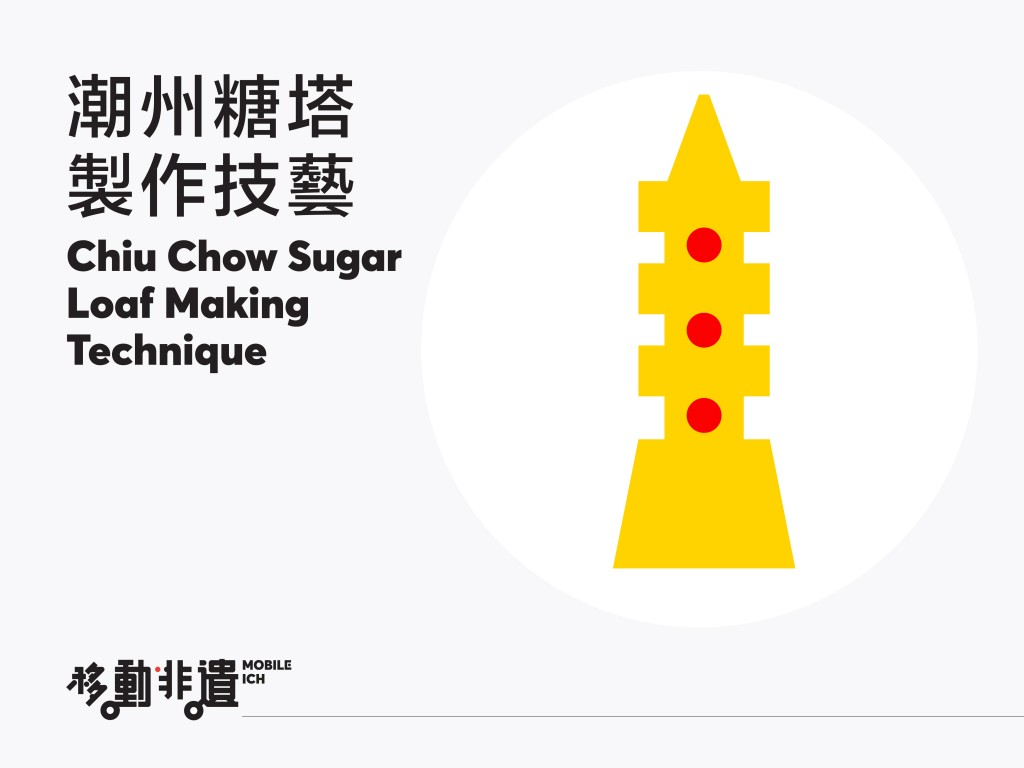 潮州糖塔製作技藝已列入…
.
.香港非物質文化遺產清單
類別
.
傳統手工藝
情報簡介
.
一座座用糖來製成的潮州糖塔,有全白的風水塔外形,既矚目又亮麗!
師傅首先把白砂糖和水按比例烹調成呈半透明狀態的糖漿,然後倒入木模,待糖漿冷卻後,再慢慢拆開木模,糖塔便製作完成。
糖塔有不同的高度,而最高可以高至32吋。糖塔會放置於供桌上以供奉神明,而完成供奉後,糖塔會用作烹調糖水,寓意把神明的祝福帶給吃過糖水的人。
非遺追蹤
.
地區:不分地區
時間:全年
Chiu Chow Sugar Loaf Making Technique was inscribed onto…
.
.The Intangible Cultural Heritage Inventory of Hong Kong
Domains
.
Traditional craftsmanship
Intel brief
.
White towers of Chiu Chow Sugar Loaf made into the shape of fengshui pagoda is a tremendous view to behold!
The craftsman will have to cook white sugar and water of a certain ratio into translucent syrup before pouring it into a wooden mould. When the syrup has cooled down, the mould will be removed and a sugar pagoda is completed.
There are different heights for the sugar loaf. The tallest can be as tall as 32 inches. Sugar pagodas are placed on the altar as offerings to the deities. After the worship, they are used for making sweet soup which will be distributed for consumption to signify giving out blessings from the deities.
ICH tracking
.
Region: No specific region.
Occasion: Year-round.
/ 非遺專車計劃主頁 Homepage of ICH Mobile Centre
/ 非遺情報主頁 Homepage of ICH Intel
/ 關於我們
長春社文化古蹟資源中心(CACHe)於2005年成立,一直積極舉辦古蹟保育活動。我們將繼續秉承宗旨,推廣香港歷史文化,建立知識交流平台,鼓勵大眾參與社區文化遺產保育,建立社區身份認同。
/ 關於非遺專車計劃
本計劃由康樂及文化事務署非物質文化遺產資助計劃資助,非物質文化遺產辦事處主辦,並由長春社文化古蹟資源中心籌劃,非遺專車——「移動.非遺」會駛進全港中小學校園及各個社區,把不同非物質文化遺產(非遺)項目帶到大家身旁。非遺專車內設有展覽及互動設施,同時配有一系列教育及公眾節目,以有趣和互動的方式提升學生與公眾對非遺的認識,並從中學習欣賞和珍惜文化遺產。
/ 查詢方法
電話:2291 0238
傳真:2291 0236
電郵:mobileich@cache.org.hk
網頁:www.cache.org.hk