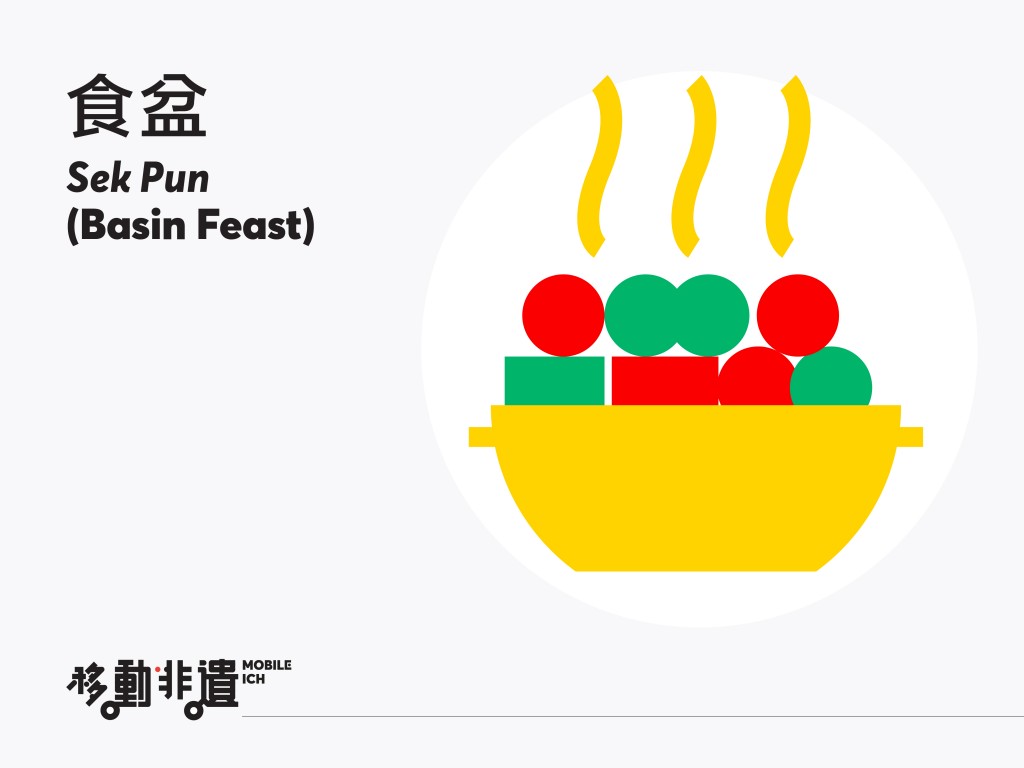 食盆已列入…
.
.香港非物質文化遺產清單
.香港非物質文化遺產代表作名錄
類別
.
社會實踐、儀式、節慶活動
情報簡介
.
新界宗族傳統會於婚嫁、添丁、春秋二祭、打醮等場合烹煮盆菜分享。盆菜的食材豐富,如屏山鄧氏烹煮盆菜時會把蘿蔔、豬皮、豬肉、雞和炸門鱔等食材一層層、有序地疊於盆中。盆菜食材會因各村不同環境而就地取材,有些會加上生蠔,有些會加上竹筍。
圍盆而坐分享美食,大家又可藉此聯誼,談笑風生,了解對方近況,凝聚家族成員。隨時代變遷,酒家、連鎖快餐店在佳節時也會推出盆菜吸引食客,使盆菜逐漸由圍村傳統食物變成為代表香港的節慶食物呢!
非遺追蹤
.
地區:由新界變為不分地區
時間:全年,尤其節慶日子
Sek Pun – Basin Feast was inscribed onto…
.
.The Intangible Cultural Heritage Inventory of Hong Kong
.The Representative List of the Intangible Cultural Heritage of Hong Kong
Domains
.
Social practices, rituals and festive events
Intel brief
.
It is the tradition for villages in the New Territories to prepare punchoi (basin feast) to celebrate wedding and birth of a baby boy. It is also eaten after the ancestral worship ceremony in Spring and Autumn or at a Jiao Festival. Punchoi is rich in ingredients. The Tang Clan of Ping Shan will pile up layers of daikon, pork skin, pork, chicken, deep-fried eel, etc. in one single basin. Different villages source the ingredients of their own style of Punchoi according to the local food availability and geographical characteristics. Some will add oysters while some, bamboo shoots.
By gathering around and sharing the same basin of food, the clansmen can take the opportunity to socialise and chit-chat, such that unity within the family can be bolstered. As time evolves, restaurants and fast-food chains also offer punchoi during festivals, which have converted the traditional dish only in rural villages into a festive food representing Hong Kong.
ICH tracking
.
Region: From New Territories only to no specific region.
Occasion: Year-round. Especially on festivals.
/ 非遺專車計劃主頁 Homepage of ICH Mobile Centre
/ 非遺情報主頁 Homepage of ICH Intel
/ 關於我們
長春社文化古蹟資源中心(CACHe)於2005年成立,一直積極舉辦古蹟保育活動。我們將繼續秉承宗旨,推廣香港歷史文化,建立知識交流平台,鼓勵大眾參與社區文化遺產保育,建立社區身份認同。
/ 關於非遺專車計劃
本計劃由康樂及文化事務署非物質文化遺產資助計劃資助,非物質文化遺產辦事處主辦,並由長春社文化古蹟資源中心籌劃,非遺專車——「移動.非遺」會駛進全港中小學校園及各個社區,把不同非物質文化遺產(非遺)項目帶到大家身旁。非遺專車內設有展覽及互動設施,同時配有一系列教育及公眾節目,以有趣和互動的方式提升學生與公眾對非遺的認識,並從中學習欣賞和珍惜文化遺產。
/ 查詢方法
電話:2291 0238
傳真:2291 0236
電郵:mobileich@cache.org.hk
網頁:www.cache.org.hk