鳴謝劉國偉先生提供照片。 Photos courtesy of Mr Lau Kwok Wai.
評級:二級歷史建築三座(亭子、禮堂及園丁宿舍)
在香港聚居的巴斯人最早可追溯至開埠初期,他們大多來自印度,祖藉伊朗,世代信奉祅教。袄教源自波斯,因信徒視火為神聖、會向火焰祈禱,故又被稱為拜火教。
波斯墳場於1852年設立,雖然當時在港巴斯人為數不多,卻是第三個獲殖民地政府撥地興建墳場的族群。巴斯人傳統上奉行天葬,但因香港不適合舉行儀式於是改為土葬,會將遺體潔淨後放入升高的墓棺。曾捐款創立香港大學的麼地爵士和律敦治家族等著名商人均長眠於此。祅教在港的足跡並不限於波斯墳場,大家去動植物公園時必定曾經過的涼亭,便是由巴斯族群捐建,方便軍樂隊奏樂予市民欣賞。
粵語:

國語:

Grading: Grade 2 (Pavilion, Service Hall & Gardener's House)
The origins of Parsees in the city can be traced back to the early days of Hong Kong. Most of them descended from Iranians and came to Hong Kong from India. For generations, they have practiced Zoroastrianism, a religion founded in Persia. In Zoroastrianism, prayers are offered to the fire, which is regarded as a sacred symbol by its followers. Zoroastrianism is therefore also known as a fire-worshipping religion.
The Parsee Cemetery was established in 1852. There were few Parsees in Hong Kong at the time, but they were the third ethnoreligious group to be allocated a site for cemetery by the colonial government. For Parsees, sky burial is the traditional way to dispose of the dead. Since there are no suitable venues in Hong Kong for this kind of ritual, earth burial is practiced instead. Before burial, the body is cleaned and placed inside an elevated coffin. Some of the most prominent Parsee businessmen in Hong Kong, such as Sir Hormusjee Mody, who donated for the founding of the University of Hong Kong, and the Ruttonjee family, are laid to rest in this cemetery. Indeed, the footprints of Zoroastrianism can be found at various places in the city. For instance, the well-visited pavilion at the Hong Kong Zoological and Botanical Gardens was built with donations from the local Parsee community as a performance venue for the military band.
「『古蹟留聲機』- 細聽100個香港古蹟小故事」計劃由衞奕信勳爵文物信託資助。
The project is supported by Lord Wilson Heritage Trust.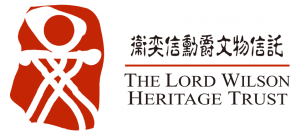 / 關於我們
CACHe於2005年成立,一直積極舉辦古蹟保育活動。我們將繼續秉承宗旨,推廣香港歷史文化,建立知識交流平台,鼓勵大眾參與社區文化遺產保育,建立社區身份認同。
/ 查詢方法
電話: 2291 0238
電郵: info@cache.org.hk
網頁: www.cache.org.hk