大隱隱於市——大圍城門河畔、高速橋下,石製城牆巍然聳立,門樓上刻有「博雅山莊」之名。
博雅山莊又稱渭濱城,前身是梅苑別墅和合興隆魚翅廠,佔地甚廣。1971年,華人總探長呂樂買下地皮,耗時兩年改建成園林式度假別墅。至1976年呂樂因貪污潛逃而被廉政公署通緝,博雅山莊由酒樓集團接手,其後十年用作經營中式餐館,後因興建城門隧道公路和住宅而拆卸,改成休憩公園。雖然如今公園只剩下門樓和城牆,但今日亦可從已故歌手鄧麗君於此拍攝的《虞美人》音樂短片中,一睹博雅山莊昔日風貌,古色古香的亭台樓閣、巨型假山、池塘、松柏等景色和園林式建築盡收眼中。
粵語:

國語:

Under the highway bridge at the Shing Mun River in Tai Wai is a stone wall and a gate tower, hidden in the urban landscape against a backdrop of high-rise buildings. Inscribed on the gate tower is the name "Pok Nga Villa".
Pok Nga Villa, also known as Wai Bun Castle, occupied a huge space, which was also previously the site of Mui Yuen Villa and Hop Hing Lung Shark Fin Factory. In 1971, Lui Lok, a former Chinese detective sergeant in Hong Kong, bought the land and took two years to redevelop the site into a mansion with a garden landscape. In 1976, Lui was wanted by the ICAC for fleeing a corruption investigation. Pok Nga Villa was subsequently taken over by a restaurant group and operated as a Chinese restaurant in the following ten years. The restaurant was later demolished due to the construction of Shing Mun Tunnel Road and new residences. The site was converted into a park, and only the gate tower and the wall remain. Today, one can still have a glimpse of how the villa looked in the old days from the music video of Yu Mei Ren, a popular song of late singer Teresa Teng. The scenery of the site and the beautiful landscape architecture, including the traditional pavilion, pond, rockery, and pine trees, are all captured in the video.
「『古蹟留聲機』- 細聽100個香港古蹟小故事」計劃由衞奕信勳爵文物信託資助。
The project is supported by Lord Wilson Heritage Trust.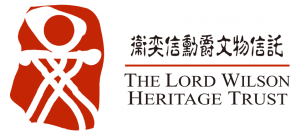 / 關於我們
CACHe於2005年成立,一直積極舉辦古蹟保育活動。我們將繼續秉承宗旨,推廣香港歷史文化,建立知識交流平台,鼓勵大眾參與社區文化遺產保育,建立社區身份認同。
/ 查詢方法
電話: 2291 0238
電郵: info@cache.org.hk
網頁: www.cache.org.hk