石碑位於粉嶺安居街,由大埔理民府於1934年豎立。碑上指「牛隻不准繫於該處,以免阻礙行人和毀壞道路」。
牛車是香港早期的交通工具之一,新界鄉民除了運用牛隻作耕犂,還常以牛隻載物;殖民地政府也曾大量使用牛車運載垃圾,在港島和九龍均設有牛房,直至1930年代才逐漸被淘汰。牛車雖然負載量高,但其重量容易輾壞路面,故也有其他地方會禁止牛車通過公路,若車主必須使用公路,便要自行在路上加鋪石塊以保護地面。
由於石碑沒有任何保護,經歷多年日曬雨淋後,現時碑文的字跡已變得模糊、難以辨認,另竪有一塊抄錄了碑文的鐵牌。
粵語:

國語:

Situated on On Kui Street of Fanling, this stone tablet was erected by the Tai Po District Office in 1934. According to the tablet, it is prohibited to tether cows here so as not to obstruct pedestrians and cause damage to the path.
Cattle carts were one of the early means of transportation in Hong Kong. During the early days, villagers in the New Territories used cattle for ploughing and carrying goods; the colonial government also deployed a large number of cattle carts to transport refuse. There used to be cattle depots in both Hong Kong Island and Kowloon. It wasn't until the 1930s that this mode of transportation began to be eliminated. Cattle-drawn carts have a high loading capacity but the heavy weight could easily cause damage to roads. Therefore, there were places where cattle carts were prohibited. Cart owners who had to use the roads in the prohibited areas needed to put a layer of stones on the road surface for protection against damage.
  
Since no measures were taken to keep the stone tablet from wearing away, after years of exposure to the sun and rain, the words inscribed on the tablet became blurry and hard to read. A metal sign was erected on the site to show the information on the stone tablet.
「『古蹟留聲機』- 細聽100個香港古蹟小故事」計劃由衞奕信勳爵文物信託資助。
The project is supported by Lord Wilson Heritage Trust.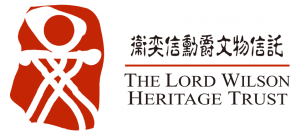 / 關於我們
CACHe於2005年成立,一直積極舉辦古蹟保育活動。我們將繼續秉承宗旨,推廣香港歷史文化,建立知識交流平台,鼓勵大眾參與社區文化遺產保育,建立社區身份認同。
/ 查詢方法
電話: 2291 0238
電郵: info@cache.org.hk
網頁: www.cache.org.hk