鳴謝劉國偉先生提供照片。 Photos courtesy of Mr Lau Kwok Wai.
評級:一級歷史建築
孫中山的追隨者李紀堂於1901年在屯門開設青山農場,用以儲存軍火、試行射擊和接濟逃命的革命人士。農場內的紅樓雖是一級歷史建築,卻曾險遭拆卸,政府曾將紅樓列作暫定法定古蹟保護。據官方文件指,政府曾於1968年視察並估計建築物大約建於一百年前;另有文獻引述孫中山側室陳粹芬指,二人相遇於此,孫中山在港大讀醫時亦曾居這裏。昔日每逢雙十節紅樓四周便掛滿青天白日滿地紅旗,更有不少人會到附近的廣場紀念。
現時圍牆和旁邊的小屋已遭拆卸,紅樓亦面臨失修倒塌的危機。惟政府指未能確立其為辛亥革命時期的歷史遺跡,遲遲未推保育方案。
粵語:

國語:

Grading: Grade 1
In 1901, Li Ki-tong, a follower of Dr Sun Yat-sen, established the Castle Peak Farm in Tuen Mun as a place to store and experiment with firearms, as well as assist the fleeing revolutionaries. Despite being a Grade I historic building, Hung Lau, a structure situated in the farm, was nearly demolished. The building was once declared a monument by the government. According to official documents, after an inspection in 1968, the government estimated that Hung Lau was built about 100 years ago. Other documents quoted Chen Cuifen — the concubine of Sun — saying that the couple met in Hung Lau, and that Sun had resided there when he studied medicine in Hong Kong. In the past, on the "Double Ten Day" every year, the building was hung with blue-sky-white-sun flags. Many people visited the nearby square to commemorate the day.
The walls around Hung Lau and the cottage next to it have been demolished. While the building is in danger of collapse, the government claimed it was unable to confirm Hung Lau as a historic relic from the 1911 Revolution Period, and therefore no conservation plan is in place for the site.
「『古蹟留聲機』- 細聽100個香港古蹟小故事」計劃由衞奕信勳爵文物信託資助。
The project is supported by Lord Wilson Heritage Trust.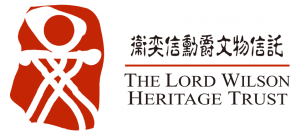 / 關於我們
CACHe於2005年成立,一直積極舉辦古蹟保育活動。我們將繼續秉承宗旨,推廣香港歷史文化,建立知識交流平台,鼓勵大眾參與社區文化遺產保育,建立社區身份認同。
/ 查詢方法
電話: 2291 0238
電郵: info@cache.org.hk
網頁: www.cache.org.hk