這幢三層高的白色建築高掛着「紅磡三約街坊會」的招牌,三約是指紅磡、鶴園角和土瓜灣,「紅磡三約」的街坊早在1873年已籌建旁邊的觀音廟。1902年,「紅磡三約公所」正式創立,公所先後設立義學和公立醫局,後於1951年改組成現時的街坊會,同年街坊會興建的兒童遊樂場開幕。1954年,街坊會在現址興建會址,並在一樓設立全港第一間街坊會圖書館,提供一個安靜的學習空間予學生。街坊會在1959年獲得資助,於觀音廟旁邊興建免費留產所以應付戰後嬰兒潮帶來的醫療壓力,現為普通科門診診所。街坊會見證紅磡發展,現仍積極服務街坊。
粵語:

國語:

On this three-storey white building, the name "Hung Hom (Three Districts) Kaifong Association" is prominently displayed. The "three districts" refer to Hung Hom, Hok Yuen Kok, and To Kwa Wan. Next to this white edifice is the Kwun Yam Temple, which was planned by residents of the three districts, and completed in 1873. Hung Hom Sam Yeuk So, a group founded in 1902, established free schools and public dispensaries in the districts. In 1951, the group was reorganised into the Hung Hom (Three Districts) Kaifong Association. A children's playground built by the association was opened in the same year.
In 1954, the association established a clubhouse on its current site. The building features on its first floor the first library of the association, providing local students with a quiet study space. The association used the funds received in 1959 to build a free maternity home next to the temple, to help relieve the burden on the public healthcare system caused by the baby boom after the Second World War. The maternity home has now become a general out-patient clinic. The association, which has witnessed the development of Hung Hom, is still actively serving the local community today.
「『古蹟留聲機』- 細聽100個香港古蹟小故事」計劃由衞奕信勳爵文物信託資助。
The project is supported by Lord Wilson Heritage Trust.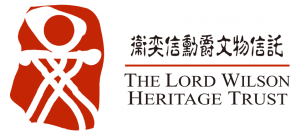 / 關於我們
CACHe於2005年成立,一直積極舉辦古蹟保育活動。我們將繼續秉承宗旨,推廣香港歷史文化,建立知識交流平台,鼓勵大眾參與社區文化遺產保育,建立社區身份認同。
/ 查詢方法
電話: 2291 0238
電郵: info@cache.org.hk
網頁: www.cache.org.hk