在紅磡寶其利街的盡頭,行人路中央竟立有一座福德古廟。這座廟可謂麻雀雖小,五臟俱全,除了供信眾燒香拜神,更設有靈簽解讀。紅牆綠瓦下的古廟供奉着福德正神,即土地公公。廟內沒有碑記記載建廟的歷史,但據街坊口耳相傳,有說古廟始建於宋朝。而據古廟的工作人員所講,紅磡觀音廟旁的義學在二戰期間遭盟軍誤炸,不少人罹難,親屬把殉難學生的骨灰安放在觀音廟旁的警局裏,其後再遷移到福德古廟旁供奉。
福德古廟現時仍香火鼎盛,每年的福德寶誕,紅磡三約街坊會都會舉辦巡遊、神功戲、上香祈福等活動。
粵語:

國語:

Oddly situated in the centre of the pavement of Bulkeley Street of Hung Hom, Fuk Tak Temple is small but complete. The temple provides space for worshippers to burn incense and make offerings, as well as fortune-telling services. Featuring red walls and green tiles, the temple is dedicated to Fuk Tak Ching San, the local earth god. There is no inscription that tells the history of the building of the temple. However, according to oral history in the community, the temple was built in the Song Dynasty. The staff of the temple said that during the Second World War, a free school next to the Kwun Yam Temple in Hung Hom was mistakenly bombed by the Allied Forces and caused many deaths. Ashes of the deceased students were first kept at the police station next to the Kwun Yam Temple, and were later transferred to and preserved in Fuk Tak Temple.
Fuk Tak Temple has been attracting a large number of worshippers till this day. Every year, various rituals, such as parades, Chinese operas, incense burning ceremonies and so on. are held by the Hung Hom (Three Districts) Kaifong Association to celebrate the birthday of Fuk Tak Ching San.
「『古蹟留聲機』- 細聽100個香港古蹟小故事」計劃由衞奕信勳爵文物信託資助。
The project is supported by Lord Wilson Heritage Trust.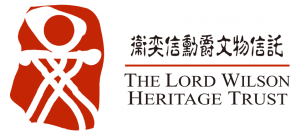 / 關於我們
CACHe於2005年成立,一直積極舉辦古蹟保育活動。我們將繼續秉承宗旨,推廣香港歷史文化,建立知識交流平台,鼓勵大眾參與社區文化遺產保育,建立社區身份認同。
/ 查詢方法
電話: 2291 0238
電郵: info@cache.org.hk
網頁: www.cache.org.hk