黃竹坑有舊圍和新圍兩條古村,前者有香港村、香港圍之稱,更有說是香港地名的由來之一。早在《新安縣志》裏已有記載「香港村」,而在1855年印製的《新安縣全圖》上,黃竹坑一帶被標上「香港圍」。至19世紀中期,殖民地政府仍常將香港圍稱作「Little Hong Kong」。
周氏族人於1759年從廣東移居至黃竹坑建村,後因村內人口漸多,部份族人移居至鄰近地方,漸漸形成了新圍。舊圍並不似新界一般的圍村,它沒有圍牆、門樓、整齊排列的房屋,只有一些寮屋和簡單的神壇,相反新圍仍保留了一些傳統民居。經歷多次發展後,現時舊圍大部份地方已被政府清拆。
粵語:

國語:

There are two old villages in Wong Chuk Hang — Kau Wai and San Wai. The former, also known as "Hong Kong Village" or "Hong Kong Wai", is referred to by some as the origin of the city's name. The name "Hong Kong Village" appeared as early as the Qing Dynasty in the Gazetteer of Xin'an County. In the Map of Xin'an County published in 1855, the Wong Chuk Hang area was marked with the name "Hong Kong Wai". Until the mid-19th century, Hong Kong Wai was called the "Little Hong Kong" by the colonial government.
In 1759, the Chow clan moved from Guangdong Province to Wong Chuk Hang, where they established a new village. As the population of the village grew, some members of the clan relocated to the vicinity, gradually forming San Wai. Unlike the walled villages in the New Territories, there are neither walls around the village, gate towers, nor neatly arranged houses in Kau Wai. Only a few squatters and some simple shrines are found there. In contrast, some traditional residences have been preserved in San Wai. Most of the places in Kau Wai have been demolished by the government after a number of development projects were carried out.
「『古蹟留聲機』- 細聽100個香港古蹟小故事」計劃由衞奕信勳爵文物信託資助。
The project is supported by Lord Wilson Heritage Trust.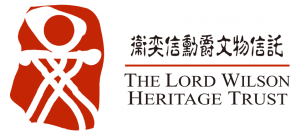 / 關於我們
CACHe於2005年成立,一直積極舉辦古蹟保育活動。我們將繼續秉承宗旨,推廣香港歷史文化,建立知識交流平台,鼓勵大眾參與社區文化遺產保育,建立社區身份認同。
/ 查詢方法
電話: 2291 0238
電郵: info@cache.org.hk
網頁: www.cache.org.hk