評級:二級歷史建築
殖民地政府過往曾分配土地予不同宗教群體建設墳場。1928年,印度教社群獲分配土地,然而印度教主張火葬然後將骨灰灑於海中而非土葬。因此待修訂土地使用條款後,印度教協會在黃泥涌道現址建造廟宇,於1953年落成啟用,是香港首間印度廟宇。
香港現時大約有十萬名印度教徒,印度廟是他們宗教及社交活動的重要場所。印度廟樓高三層,聖殿裏供奉了三個神壇。除了供奉神明,信徒還會在廟內慶祝節日、舉行婚禮、立誓、甚至喪禮等儀式。廟宇後面有個規模細小的印度墳場,墳墓上最早的年份是1888年。
粵語:

國語:

Grading: Grade 2
In the past, the colonial government allocated lands for religious groups to establish cemeteries. In 1928, the Hindu community was allocated a site for this purpose. However, the Hindu tradition advocates cremation and the scattering of ashes of the deceased at sea. Upon revision of the terms and conditions for the use of the site, a temple was built by the Hindu Association of Hong Kong at its current address on Wong Nai Chung Road. The temple, completed in 1953, was the first Hindu temple in Hong Kong.
Currently, there are about 100,000 Hindus in Hong Kong. For them, the Hindu Temple is an important place for religious and social activities. In this three-storey temple, there are three shrines dedicated to different Hindu deities. Apart from being a place of worship, the temple also serves as a venue for festive celebrations, weddings, oath-taking, and funerals. At the back of the temple is a small Hindu cemetery, where the earliest grave is dated 1888.
「『古蹟留聲機』- 細聽100個香港古蹟小故事」計劃由衞奕信勳爵文物信託資助。
The project is supported by Lord Wilson Heritage Trust.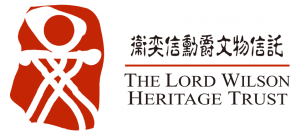 / 關於我們
CACHe於2005年成立,一直積極舉辦古蹟保育活動。我們將繼續秉承宗旨,推廣香港歷史文化,建立知識交流平台,鼓勵大眾參與社區文化遺產保育,建立社區身份認同。
/ 查詢方法
電話: 2291 0238
電郵: info@cache.org.hk
網頁: www.cache.org.hk