評級:三級歷史建築一座(小教堂)
猶太墳場被高樓遮擋,一道中式橋樑橫跨墳場入口,連接兩旁的寶覺小學和東蓮覺苑。墳場內的白色小教堂估計在墳場建成不久後興建,用以舉行葬禮儀式,有着中式的屋頂,後面則設有殮房。
猶太教義主張簡樸,故墳場內的建築較簡單,墓碑設計亦甚少裝飾,只刻上死者資料。大部份墓碑朝向西方,即聖地耶路撒冷之方向,因為猶太人相信他們死後可以回到聖城,步向天國。但是在港猶太人的祖先來自世界各地,所以墓葬風格亦有所不同。對猶太人而言,堅固的石頭代表永恆的生命,故不少墓前都擺放了石頭。不少猶太名人家族均有成員長眠於此。
粵語:

國語:

Grading: Grade 3 (Chapel)
Surrounded by high-rise buildings, the Jewish Cemetery features a Chinese-style bridge across the entrance that connects Po Kok Primary School and Tung Lin Kok Yuen on the sides. It is believed that the white chapel — featuring a Chinese roof and a mortuary at the back — was built as a place for funerals shortly after the completion of the cemetery.
Judaism emphasises simplicity. This can be observed in the simple architectural design of the cemetery and the lack of decorations on tombstones, which contains primarily the information of the deceased. Most of the tombstones face west — the direction of Jerusalem — as Jewish believe that they'll return to the Holy City and ascend to heaven after death. The Jewish in Hong Kong came from various parts of the world, and this is reflected in the different styles of the tombstones. To the Jewish, the strength of stones symbolises immortality. Therefore, stones can be found at a lot of the graves here. Many prominent Jewish families in Hong Kong are laid to rest in this cemetery.
「『古蹟留聲機』- 細聽100個香港古蹟小故事」計劃由衞奕信勳爵文物信託資助。
The project is supported by Lord Wilson Heritage Trust.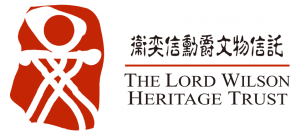 / 關於我們
CACHe於2005年成立,一直積極舉辦古蹟保育活動。我們將繼續秉承宗旨,推廣香港歷史文化,建立知識交流平台,鼓勵大眾參與社區文化遺產保育,建立社區身份認同。
/ 查詢方法
電話: 2291 0238
電郵: info@cache.org.hk
網頁: www.cache.org.hk