評級:法定古蹟
1918年馬會舉辦周年大賽,當時的馬棚只以竹枝、木條和草蓆搭建而成。馬迷為欣賞神駒馳騁而擠往馬棚上層看台時,馬棚突然相繼塌下,下層熟食攤檔的爐灶更將馬棚點燃,大火迅速蔓延,釀成逾六百死。
災後東華醫院協助將罹難者的遺骸移送至附近的咖啡園下葬,後成為永久墓園。墓園於1922年落成,設立馬場先難友紀念碑,兩旁有中英文碑記記載災難始末和死難者名字。死難者有不同國籍,故墓園設計混合中西建築元素。紀念碑由中式「三間四柱七樓」牌樓形式建造,下方有三個古典意大利風格的花崗石壁龕,碑記則用上雲石建造。
粵語:

國語:

Grading: Declared Monument
At the annual Derby Day races held by the Hong Kong Jockey Club at the Happy Valley Racecourse in 1918, the temporary grandstands — built of bamboo sticks, wooden beams and straw mats — were crowded with spectators jostling their way to the upper decks to get a better view of the race, causing the stands to collapse. The fallen structures were ignited by the cooking stoves of the food stalls on the lower floor. The fire spread quickly and resulted in the deaths of more than 600 people.
After the catastrophe, Tung Wah Hospital assisted in delivering the bodies of the victims to a nearby site in the coffee garden at Mount Caroline, which later turned into the permanent burial ground for the casualties, named as Mount Caroline Cemetery. In 1922, the Race Course Fire Memorial was erected on the site, with names of the dead and an account of the fire inscribed on the two sides of the monument in Chinese and English. Due to the different nationalities of the victims, a blend of Chinese and Western architectural elements can be found in the design of the monument. The central part of the memorial is built in the form of a traditional seven-storey gateway comprising four pillars and three archways. The lower part features three classical Italianate granite niches, and tablets on the memorial are made of marble.
「『古蹟留聲機』- 細聽100個香港古蹟小故事」計劃由衞奕信勳爵文物信託資助。
The project is supported by Lord Wilson Heritage Trust.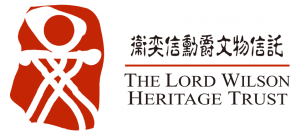 / 關於我們
CACHe於2005年成立,一直積極舉辦古蹟保育活動。我們將繼續秉承宗旨,推廣香港歷史文化,建立知識交流平台,鼓勵大眾參與社區文化遺產保育,建立社區身份認同。
/ 查詢方法
電話: 2291 0238
電郵: info@cache.org.hk
網頁: www.cache.org.hk