鳴謝劉國偉先生提供照片。 Photos courtesy of Mr Lau Kwok Wai.
評級:二級歷史建築兩座(圓通寶殿、天王殿及韋馱殿)
位於荃灣老圍的東普陀講寺由茂峰法師創立,他於1927年來港弘揚佛法,在風景秀麗的老圍村集資建寺,寺院於1933年落成。他見寺院附近山色與浙江普陀山相似,故取名東普陀;又以講寺代替佛寺,突顯其重視講道弘法。
講寺佈局傳統,規模宏大、殿堂眾多,主殿為圓通寶殿,供奉觀音大士。寺方在1964年茂峰法師圓寂後設立茂公紀念館,安放其塑像和生前的物品,其中「金燦五衣」是茂峰法師到台灣弘法時因感動日本天皇而獲賜的袈裟。他在日佔時期開放講寺讓善信和村民避難,曾披上袈裟立於寺前,日軍見狀紛紛放下武器致敬,讓講寺避過一劫。
粵語:

國語:

Grading: Grade 2 (Yuen Tung Po Din, Tin Wong Din & Wai Tor Din)
Situated in Lo Wai of Tsuen Wan, Tung Po Tor Monastery was founded by Buddhist Mau Fung, who came to Hong Kong in 1927 to promote Buddhism. In the scenic village of Lo Wai, Mau Fung successfully raised funds to build the monastery, which was completed in 1933. He named the monastery Tung Po Tor as he found that the scenery of the village resembles that of Mount Putuo in Zhejiang; and emphasised in its Chinese name the importance of preaching in promoting Buddhism.
Huge in dimension, the monastery is built in the form of a traditional Buddhist temple, with a large number of halls. The main hall, called Yuen Tung Bo Din, is dedicated to Guanyin. After the passing of Mau Fung in 1964, a memorial hall was established in the monastery. A statue of Mau Fung and a number of his items — including a robe gifted by the Emperor of Japan when he was preaching in Taiwan — were placed in the hall. During the Japanese occupation of Hong Kong, Mau Fung opened the monastery to worshippers and villagers as a place of refuge. He once wore that robe and stood in front of the monastery. This prompted the Japanese army to put down their weapons and salute to him, protecting the monastery from disturbance.
「『古蹟留聲機』- 細聽100個香港古蹟小故事」計劃由衞奕信勳爵文物信託資助。
The project is supported by Lord Wilson Heritage Trust.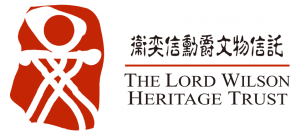 / 關於我們
CACHe於2005年成立,一直積極舉辦古蹟保育活動。我們將繼續秉承宗旨,推廣香港歷史文化,建立知識交流平台,鼓勵大眾參與社區文化遺產保育,建立社區身份認同。
/ 查詢方法
電話: 2291 0238
電郵: info@cache.org.hk
網頁: www.cache.org.hk