鳴謝劉國偉先生提供照片。 Photos courtesy of Mr Lau Kwok Wai.
評級:法定古蹟
座落於跑馬地山光道上的東蓮覺苑,是港島首座佛教寺苑。該苑由何東爵士夫人張靜蓉(法號蓮覺)創辦,以夫妻二人的名字合稱。她一生篤信佛教,致力弘揚佛法和普及女子教育,在1930年代初創辦寶覺義校及寶覺佛學社,後來更用何東送贈的結婚周年贈款興建東蓮覺苑及寶覺小學,於1935年落成。
寺苑按照傳統佛寺佈局,採用當時流行的中華古典復興風格,以紅牆黃瓦模仿古代宮殿,保留飛簷、斗拱等中式元素。設計同時混合西方特色,如鬱金香圖案的地磚、彩繪玻璃等。若俯瞰寺苑,其外形猶如一艘般若之舟,蘊含佛教可普渡眾生到幸福彼岸的法義。
粵語:

國語:

Grading: Declared Monument
Situated on Shan Kwong Road in Happy Valley, Tung Lin Kok Yuen is the first Buddhist monastery on Hong Kong Island. Founded by Lady Clara Ho Tung — wife of Sir Robert Ho Tung, a prominent businessman knighted by the British crown in the early 20th century — the monastery is named after the Ho Tung couple. "Lin Kok" was the dharma name of Lady Ho Tung, a devout Buddhist committed to promoting Buddhism and women's education throughout her life. She established Po Kok Free School and Po Kok Buddhist Institute in the early 1930s, and used the money given by her husband as a wedding anniversary gift to build Tung Lin Kok Yuen and Po Kok Primary School. The two buildings were completed in 1935.
The monastery is built in the form of a traditional Buddhist temple, featuring a Chinese classical revival style that was popular at the time. It consists of red walls and yellow tiles — elements included to resemble Chinese ancient palaces — as well as other Chinese architectural features, such as overhanging eaves and brackets. Western elements, including floor tiles decorated with tulip motifs and stained glasses, are also incorporated in the design. When it is looked at from above, the monastery appears as a giant ship, a symbol in Buddhism that represents the ferrying of all beings to the "other shore" of nirvana.
「『古蹟留聲機』- 細聽100個香港古蹟小故事」計劃由衞奕信勳爵文物信託資助。
The project is supported by Lord Wilson Heritage Trust.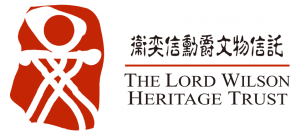 / 關於我們
CACHe於2005年成立,一直積極舉辦古蹟保育活動。我們將繼續秉承宗旨,推廣香港歷史文化,建立知識交流平台,鼓勵大眾參與社區文化遺產保育,建立社區身份認同。
/ 查詢方法
電話: 2291 0238
電郵: info@cache.org.hk
網頁: www.cache.org.hk