評級:二級歷史建築兩座(主樓及房舍)
聖若望﹒鮑思高神父在1859年創辦慈幼會,提倡透過教育促進青少年發展。1927年,香港慈幼會接辦前稱「西環教導所」的工藝學校,並開辦神學院。神學院於1930年隨修會遷入現址,正式成立慈幼會修院法定團體。日佔期間,修院曾被日軍佔據,不少會士被拘禁,亦有傳言指院內曾發生大屠殺。同時,修院亦收容不少流落街頭的孤兒,後發展成慈幼學校。
現存的主樓於1939年重建而成,牆身以紅磚點綴,北面立面有寬闊的遊廊和一整列巴洛克式窗戶,充滿古典氣息,旁邊以水泥建成的建築則為後期加建。修院現時是一所專門培育神職人員的修道學院。
粵語:
國語:

Grading: Grade 2 (Main Building & Villa)
In 1859, Don Bosco founded the Salesian Society, an organisation advocating youth development through education. In 1927, the Salesian Society of Hong Kong took over the management of an industrial school formerly known as the West Point Reformatory, and set up a seminary. In 1930, the seminary was moved to the current site, and the Salesian Mission was officially established as a statutory body. During the Japanese occupation of Hong Kong, the Salesian Mission House was occupied by the Japanese army. Many members of the Salesian Society were detained. There were even rumours that a massacre had taken place in the Mission House. At that time, many street orphans were provided shelter by the Mission House, which was later developed into Salesian School.
Rebuilt in 1939, the existing main building is decorated with red bricks. The northern façade, designed in a classical style, features a wide veranda and a row of Baroque windows. Standing next to it is a cement building added to the site at a later stage. The Mission House is currently a monastic school that offers clergy training.
「『古蹟留聲機』- 細聽100個香港古蹟小故事」計劃由衞奕信勳爵文物信託資助。
The project is supported by Lord Wilson Heritage Trust.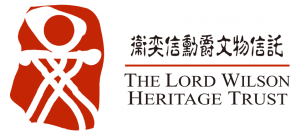 / 關於我們
CACHe於2005年成立,一直積極舉辦古蹟保育活動。我們將繼續秉承宗旨,推廣香港歷史文化,建立知識交流平台,鼓勵大眾參與社區文化遺產保育,建立社區身份認同。
/ 查詢方法
電話: 2291 0238
電郵: info@cache.org.hk
網頁: www.cache.org.hk