評級:一級歷史建築
聖德肋撒堂以「傳教區主保」聖女小德肋撒為名,建於1931年。
教堂佈局為拉丁十字形,揉合了不同建築風格。教堂有拜占庭式的八角形中央穹頂;側廊以科林斯式立柱和圓拱作分隔,柱頭有葉形圖案裝飾;屋頂則採用中式瓦頂。教堂內的玻璃窗只以黃綠色組成,配合聖女的簡樸精神。豎立於教堂旁邊的鐘樓曾是九龍塘天際線中最突出的一部份,鐘樓內的銅鐘於日佔時已變賣以救援貧民,後改用電鐘。戰後,區內交通愈見繁忙,教堂所在的十字路口曾發生車禍。因此教會豎立了「交通和旅行主保」聖基多福像,希望保護駕駛者和行人的安全,是全港唯一一座。
粵語:

國語:

Grading: Grade 1
Built in 1931, St Teresa's Church is named after Saint Thérèse of Lisieux, the Patron Saint of the Missions.
  
Laid out in the shape of a Latin cross, the church is a combination of different architectural styles. It has a central dome ceiling with an octagonal Byzantine roof; side aisles are defined by Corinthian columns with leaf motifs on the capitals and arches at the top; the roof is covered with Chinese tiles. The glass windows feature simple patterns of yellow and green, a design in line with Saint Thérèse's pursuit of spiritual simplicity. Situated next to the church is a clock tower, which used to be a dominant feature in the Kowloon Tong skyline. During the Japanese occupation of Hong Kong, the bronze bell of the clock tower was sold to help the poor. The old clock was later replaced by an electric one. After the Second World War, the traffic in the area became a lot heavier, and traffic accidents took place at the intersection where the church is located. The church therefore erected a statue — the only one in Hong Kong — of Saint Christopher, the Patron Saint of Travellers, in hopes of protecting the safety of drivers and pedestrians.
「『古蹟留聲機』- 細聽100個香港古蹟小故事」計劃由衞奕信勳爵文物信託資助。
The project is supported by Lord Wilson Heritage Trust.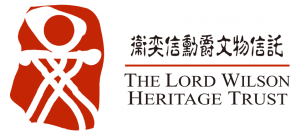 / 關於我們
CACHe於2005年成立,一直積極舉辦古蹟保育活動。我們將繼續秉承宗旨,推廣香港歷史文化,建立知識交流平台,鼓勵大眾參與社區文化遺產保育,建立社區身份認同。
/ 查詢方法
電話: 2291 0238
電郵: info@cache.org.hk
網頁: www.cache.org.hk