評級:三級歷史建築
天后宮原位於觀塘灣畔,在道光年間由官府興建,鄰近的四山村民籌款支持,曾於光緒17年重修。天后宮在1912年毀於颱風,廟內的天后像曾寄奉於茅舍之中。1941年村民集資重修舊廟,惜在1947年因興建油庫而遭拆卸。後政府應居民請求,協助於現址重建天后宮,並於翌年開幕。
天后宮為兩進三間式建築,以舊廟保留的花崗岩砌成,是香港現存最大的石砌廟宇,亦反映當時茶果嶺一帶盛產花崗岩。廟內除了供奉主殿的天后,還供奉魯班、觀音等多位神祇,門前的空地更有一對被視為求子石的天然巨石,相傳不育夫婦只要膜拜此石便可得子。
粵語:

國語:

Grading: Grade 3
Built by the Qing government during the reign of Emperor Daoguang, the Tin Hau Temple was originally situated near Kwun Tong Bay. With donations from nearby villagers of the "Four Mountains", the temple was renovated in the 17th year of Emperor Guangxu period of the Qing Dynasty. It was destroyed by a typhoon in 1912, and the Tin Hau statue had to be temporarily placed in a hut. In 1941, the temple was restored with funds raised by the villagers. It was, however, demolished in 1947 for the construction of an oil depot. Upon the request of local residents, the government helped rebuild the temple on the current site, and it was opened in the following year.
  
The current Tin Hau Temple is a two-hall, three-bay structure, built of granite from the old construction. It is the largest existing masonry temple in Hong Kong, showing the abundance of granite in the Cha Kwo Ling area. Apart from the Tin Hau statue in the main hall, the temple is also enshrined with statues of Lo Pan, Guanyin, and other deities. Two massive natural rocks, known as the "child-giving rocks", are placed in the open space in front of the temple. It was said that infertile couples could successfully have children after worshipping the rocks.
「『古蹟留聲機』- 細聽100個香港古蹟小故事」計劃由衞奕信勳爵文物信託資助。
The project is supported by Lord Wilson Heritage Trust.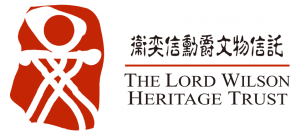 / 關於我們
CACHe於2005年成立,一直積極舉辦古蹟保育活動。我們將繼續秉承宗旨,推廣香港歷史文化,建立知識交流平台,鼓勵大眾參與社區文化遺產保育,建立社區身份認同。
/ 查詢方法
電話: 2291 0238
電郵: info@cache.org.hk
網頁: www.cache.org.hk