評級:三級歷史建築
鯉魚門現以海鮮美食馳名,但山石嶙峋的她其實本是打石業起家,而非漁業。18世紀中,觀塘東區開始發展石礦業。鯉魚門與鄰近的茜草灣、牛頭角和茶果嶺的石礦場組成「四山」聯盟,出產優質的石材供本地和南中國地區使用,甚至遠銷荷蘭。早期的石礦以人手開鑿為主,至1920年代才引進爆破方法。六七暴動期間,殖民地政府實施火藥管制,本地石礦業須恢復人手採石,成本大增、產量大減,後來石礦場更不獲續約,令逾百年歷史的石礦業劃上句號。
石礦場遺址至今仍留下不少巨型石塊,還有石建碼頭、石牆、宿舍、破舊石屋等建築。
粵語:

國語:

Grading: Grade 3
Famous for its gourmet seafood and cuisine, Lei Yue Mun first flourished in the stone carving industry — rather than fisheries — due to its rocky and mountainous terrain. In the mid-18th century, the quarry industry began to develop in the eastern part of Kwun Tong. The four quarries in Lei Yue Mun and its neighbouring Sai Tso Wan, Ngau Tau Kok and Cha Kwo Ling formed the "Four-Mountain Alliance". High-quality materials extracted from the quarries were supplied to the local market and Southern China, and even to the Netherlands. In the early days, quarrying work was done manually. It was until the 1920s that explosives were introduced for rock blasting. During the 1967 riots, the colonial government controlled the use of explosives in the city, and excavation work in the quarries had to be carried out manually again. It significantly increased the cost and reduced the production. After that, the quarries were not granted renewal of their contracts, putting an end to the quarry industry that had over a hundred years of history.
  
There are many giant rocks remaining in the site in Lei Yue Mun, where a stone pier, stone walls, a dormitory, and some old and dilapidated stone huts can be found.
「『古蹟留聲機』- 細聽100個香港古蹟小故事」計劃由衞奕信勳爵文物信託資助。
The project is supported by Lord Wilson Heritage Trust.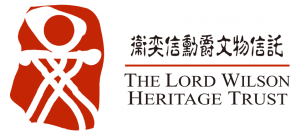 / 關於我們
CACHe於2005年成立,一直積極舉辦古蹟保育活動。我們將繼續秉承宗旨,推廣香港歷史文化,建立知識交流平台,鼓勵大眾參與社區文化遺產保育,建立社區身份認同。
/ 查詢方法
電話: 2291 0238
電郵: info@cache.org.hk
網頁: www.cache.org.hk