鳴謝劉國偉先生提供照片。 Photos courtesy of Mr Lau Kwok Wai.
評級:三級歷史建築
自1898年香港界址拓展後,香港與中國以深圳河為界。殖民地政府於1951年設立香港邊境禁區,市民出入必須持有俗稱「禁區紙」的邊境禁區許可證,令邊境周邊地區成為神秘之地。
松園下村是打鼓嶺區原居民村之一,村民多屬何氏,早於明朝末年開基。松園下村一直屬於邊境禁區,直至2016年開放。村內除了有一所何氏宗祠外,亦有一所橋芳家祠,小小的一座佇落在村落中,橙色和藍色為主調的牌匾刻有雅緻的名字。家祠於1933年由橋芳祖所建,與其他新界祠堂不同,橋芳家祠不以姓氏命名,祠堂內供奉的13個靈牌,每個都代表着一個家庭。
粵語:

國語:

Grading: Grade 3
After an extension of Hong Kong territory in 1898, the Shenzhen River was set as the boundary between the city and China. In 1951, the colonial government set up a Frontier Closed Area along the border. A "Closed Area Permit" was required for anyone who wished to enter and leave the area, making the vicinity an area of mystery.
Tsung Yuen Ha Village is one of the indigenous villages in Ta Kwu Ling area. Founded towards the end of the Ming Dynasty, the village was mostly inhabited by people surnamed Ho. The village, which fell within the Frontier Closed Area, has only been opened since 2016. Apart from the Ho Ancestral Hall, there is another one named Kiu Fong Ancestral Hall in the village. The latter is a small structure that features an orange and blue plaque with the name of the hall finely inscribed on it. Built by the Kiu Fong branch in 1933, the family ancestral hall is different from the other ones in the New Territories in that it is not named after the surname of the family. There are 13 ancestral tablets enshrined in the hall, each representing one family.
「『古蹟留聲機』- 細聽100個香港古蹟小故事」計劃由衞奕信勳爵文物信託資助。
The project is supported by Lord Wilson Heritage Trust.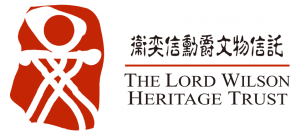 / 關於我們
CACHe於2005年成立,一直積極舉辦古蹟保育活動。我們將繼續秉承宗旨,推廣香港歷史文化,建立知識交流平台,鼓勵大眾參與社區文化遺產保育,建立社區身份認同。
/ 查詢方法
電話: 2291 0238
電郵: info@cache.org.hk
網頁: www.cache.org.hk