鳴謝Tony Wong提供照片。 Photos courtesy of Tony Wong.
評級:二級歷史建築三座(別墅、門樓、宿舍A)
聖約瑟安老院舊址現被重重圍封,只拆剩三幢建築。土地前身是孫眉農場,由反清四大寇之一陳少白在1908年購入後借予孫中山兄長孫眉藏身,以經營農場作掩護,實為同盟會革命基地和會議地點,孫眉便曾在農場內縫製青天白日旗供革命行動使用。孫眉在1910年遭驅逐出境,陳少白在該地興建別墅,後於1916年將別墅連土地賣給港商陳賡虞作私人大宅。1926年法國安貧小姊妹會購入該址並開辦安老院。
孫眉農場是現存為數不多、有確實文字記錄曾進行反清革命準備工作的地點,與青山農場同屬香港革命史上重要的遺跡,惟遲遲未有復修和保育方案。
粵語:

國語:

Grading: Grade 2 (Villa, Gate House & Dormitory A)
There are three buildings remaining on the former site of St Joseph's Home for the Aged, which has been completely enclosed for construction works. The site was previously a farm run by Sun Mei, an elder brother of Dr Sun Yat-sen. The farm was bought in 1908 by Chen Shaobai — one of the "Four Bandits" known for plotting to overthrow the Qing Dynasty — and used as a hiding place for Sun Mei. It served secretly as the base and meeting place of the Chinese Revolutionary Alliance. For instance, Sun Mei sewed blue-sky-white-sun flags in the farm, to be used in revolutionary activities. In 1910, Sun Mei was deported from Hong Kong. After that, Chen built a mansion on the site and sold the house and land to Chan Kang-yue, a Hong Kong businessman, as a private residence. In 1962, the Little Sisters of the Poor from France bought the site and founded the care home for the elderly.
The farm is one of the few recorded places in Hong Kong, where preparations for the anti-Qing revolution were underway. Both Sun Mei's farm and the Castle Peak Farm are important relics in the history of Hong Kong's revolution. Nonetheless, there aren't any plans to restore or conserve the relics.
「『古蹟留聲機』- 細聽100個香港古蹟小故事」計劃由衞奕信勳爵文物信託資助。
The project is supported by Lord Wilson Heritage Trust.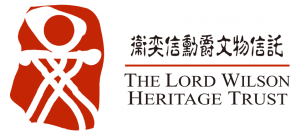 / 關於我們
CACHe於2005年成立,一直積極舉辦古蹟保育活動。我們將繼續秉承宗旨,推廣香港歷史文化,建立知識交流平台,鼓勵大眾參與社區文化遺產保育,建立社區身份認同。
/ 查詢方法
電話: 2291 0238
電郵: info@cache.org.hk
網頁: www.cache.org.hk