評級:二級歷史建築
兩座古廟位於西貢墟,建成年期已無從稽考。從天后廟內現存最早的碑記得知其於1916年曾重修,村民於同年將協天大帝廟的關帝請來作為天后娘娘的鄰居。自此兩座廟互相緊接,以鑊耳形山牆作分隔,構成了罕見的五開間建築群。天后廟內有一塊刻上眾多商店名字的捐款碑,各式店舖亦榜上有名。協天宮門前雕工精細的對聯採用耗費大量石材的陽刻雕法,極具價值,兩項細節均反映出當時西貢墟繁榮的盛況。
除了開放予信眾參拜,廟內曾有一所名為「普通」的學校,寓意普羅大眾都可享有接受教育的機會,至1945年停辦後成為街坊會辦事處。
粵語:

國語:

Grading: Grade 2
Both Tin Hau Temple and Hip Tin Temple are located in Sai Kung Town. It is unknown when the temples were built, but according to the earliest inscriptions found in the former, Tin Hau temple was renovated in 1916. In that same year, villagers of Sai Kung invited Kwan Tai from Hip Tin Temple to be the neighbour of Tin Hau. After that, the two temples were situated next to each other, forming a five-bay structure divided by walls with gables in the shape of a wok handle. Inside the Tin Hau Temple, there is a tablet inscribed with names of various shops that made donations to the temple. Featured at the entrance of Hip Tin Temple is a Chinese couplet finely carved in relief. The carving, which was completed with a lot of materials, is of great value. Both features of the temples show the prosperity of Sai Kung Town at the time.
  
Apart from being a place of worship, the temples also housed a school called "Po Tung", which means "common" in Chinese. The name expresses the idea that everyone, including the common people, is provided an opportunity to receive education. The school was converted into an office of the Kai Fong Association, after it ceased operation in 1945.
「『古蹟留聲機』- 細聽100個香港古蹟小故事」計劃由衞奕信勳爵文物信託資助。
The project is supported by Lord Wilson Heritage Trust.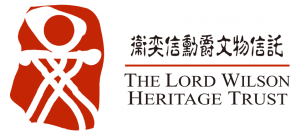 / 關於我們
CACHe於2005年成立,一直積極舉辦古蹟保育活動。我們將繼續秉承宗旨,推廣香港歷史文化,建立知識交流平台,鼓勵大眾參與社區文化遺產保育,建立社區身份認同。
/ 查詢方法
電話: 2291 0238
電郵: info@cache.org.hk
網頁: www.cache.org.hk