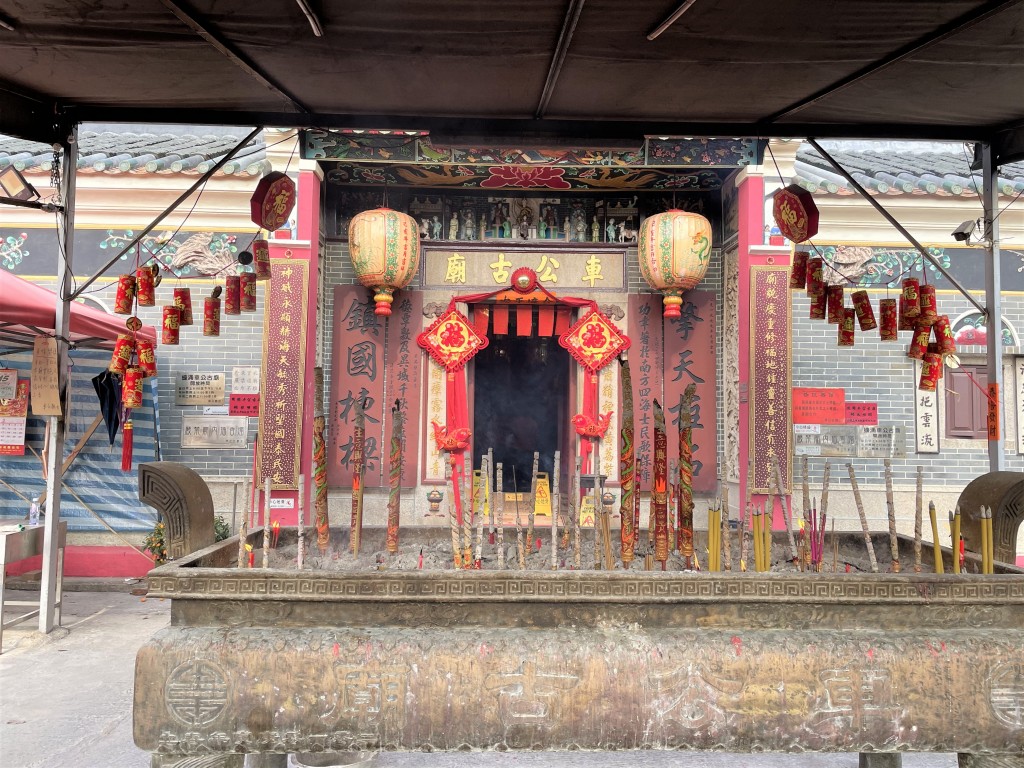 評級:一級歷史建築
每逢農曆年初三,沙田車公廟總是擠滿善信求籤、轉風車。其實沙田車公廟緣起於這座歷史更悠久、可追溯至明朝的西貢蠔涌車公古廟,向瀝源村民借出一座車公孫兒神像。
相傳車公是南宋大將軍,因平亂有功而獲封元帥,曾保護宋帝昺南下避難,曾駐守西貢,不但愛民如子,更救助了不少患病的村民,被視為「驅瘟之神」。為紀念車公的功德,西貢村民遂興建車公古廟。受瘟疫纏繞的瀝源村民風聞而至向其襄借神像,巡遊過後疫情好轉,便於自己村中建廟。不同廟宇供奉的車公像造型都略有不同,而這廟內的車公正襟危坐、有傳統文官打扮。
粵語:

國語:

Grading: Grade 1
Every year, on the third day of the lunar calendar, lots of worshippers visit the Che Kung Temple in Sha Tin to draw fortune sticks and spin the wheel of fortune. In fact, the Sha Tin temple originated from the Che Kung Temple on Ho Chung Road in Sai Kung, which has a longer history. Dating back to the Ming Dynasty, this temple at Ho Chung once lent the statue of Che Kung's grandson to villagers in Lek Yuen.
According to legend, Che Kung, a military general of the Southern Song Dynasty, was appointed Commander-in-Chief after he had helped put down a rebellion. It was said that Che Kung had helped Song Emperor Bing flee by escorting him to the south, and that he had once stationed in Sai Kung. He loved the people like his own children. He helped and saved many sick and suffering villagers, who regarded him as the "God of Protection from Plague". This temple was built by villagers in Sai Kung to remember the good deeds of Che Kung. Troubled by a plague, villagers in Lek Yuen heard about Che Kung and visited the temple to borrow its statue. The plague situation improved after a parade was held by the villagers, who then built their own temple in the village. Designs of Che Kung statues vary in different temples. The one in this temple depicts Che Kung sitting in an upright position and dressed in an outfit traditionally worn by scholar officials in the past.
「『古蹟留聲機』- 細聽100個香港古蹟小故事」計劃由衞奕信勳爵文物信託資助。
The project is supported by Lord Wilson Heritage Trust.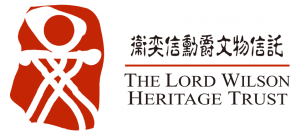 / 關於我們
CACHe於2005年成立,一直積極舉辦古蹟保育活動。我們將繼續秉承宗旨,推廣香港歷史文化,建立知識交流平台,鼓勵大眾參與社區文化遺產保育,建立社區身份認同。
/ 查詢方法
電話: 2291 0238
電郵: info@cache.org.hk
網頁: www.cache.org.hk