評級:法定古蹟
廖氏族人自元代已移居至今日新界,最後定居於上水。這座華麗的三進兩院式建築,是上水廖族最大的祠堂,建於1751年。相傳「萬石」之名源於有五名族人於宋代出任高官,每人俸祿各二千石,共一萬石,為紀念這顯赫事跡,後人便將祠堂命名為廖萬石堂。廖族於1932年創辦鳳溪小學,祠堂曾闢作校舍之用,改動過內部間隔,至1974年學校遷往新址,學生才離開祖祠校舍。祠堂後於1984年及1994年重修。
廖族每年均會在農曆二月初二於廖萬石堂舉行春祭,是一年中最重要的宗族活動之一。其祭祖活動遵循古制,保留較多傳統禮儀,供奉的祭品還相當豐富。
粵語:

國語:

Grading: Declared Monument
Ancestors of the Liu clan had been moving to what is today known as the New Territories since the Yuan Dynasty and finally settled in Sheung Shui. Built in 1751, this magnificent three-hall and two-internal-courtyard structure is the largest ancestral hall of the Liu clan in Sheung Shui. It was said that the name "Man Shek", which literally means "ten thousand stones" in Chinese, referred to the amount of salaries earned by the Liu ancestors. Legend has it that five of the clan members served as high-ranking officials in the Song Dynasty, and that each of them earned a salary of 2,000 stones, making the total 10,000. To commemorate the achievement of their ancestors, descendants of the clan named the ancestral hall "Liu Man Shek Tong". The Liu clan founded Fung Kai School in 1932. The ancestral hall was once used as the campus of the school, and the interior space of the building was modified. Students moved out of the hall in 1974, as the school was relocated to a new site. The ancestral hall was renovated in 1984 and 1994.
On the second day of the second lunar month every year, the Spring ancestral worship ceremony — one of the most important events of the year for the clan — is performed in Liu Man Shek Ancestral Hall, with a variety of offerings. The ceremony follows the old custom and many traditional rites have been preserved.
「『古蹟留聲機』- 細聽100個香港古蹟小故事」計劃由衞奕信勳爵文物信託資助。
The project is supported by Lord Wilson Heritage Trust.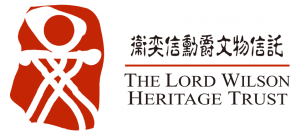 / 關於我們
CACHe於2005年成立,一直積極舉辦古蹟保育活動。我們將繼續秉承宗旨,推廣香港歷史文化,建立知識交流平台,鼓勵大眾參與社區文化遺產保育,建立社區身份認同。
/ 查詢方法
電話: 2291 0238
電郵: info@cache.org.hk
網頁: www.cache.org.hk