鳴謝李澤恩先生提供照片。 Photos courtesy of Mr Stanley Lee.
評級:三級歷史建築
位於西貢東的大浪村,是一條傳統客家村落,本來信奉民間信仰,晚清時迎來天主教傳教士,逐漸令大部份村民改信天主教、放棄祖先靈位,連村內的天后廟亦日漸荒廢,是非常成功的傳教例子。當日第一批村民信徒受洗,便是在建於1867年的聖家小堂之中。1931年建成的聖母無原罪小堂,便是用以取代聖家小堂,這裏曾發展成西貢區最大及教徒最多的天主教教會。教會在戰後協助成立育英學校,是村內唯一的小學。1979年小堂遭颶風破壞,原有鐘樓因重修而被拆卸。後來村民陸續遷離致信眾日減,小堂與學校於1988年停用後荒廢,至近年由教區保育小組不時打理。
粵語:

國語:

Grading: Grade 3
Tai Long Village is a traditional Hakka village located in eastern Sai Kung, where people used to practise Chinese folk religions. In the late Qing Dynasty, a group of missionaries arrived and converted the villagers to Catholicism. As a result of the successful preaching, the villagers stopped worshipping their ancestral tablets and the Tin Hau Temple in the village was abandoned over time. The first group of converted villagers were baptised in the Holy Family Chapel, which was built in 1867 and subsequently replaced by the Immaculate Conception Chapel. Completed in 1931, the new chapel was once the largest catholic church in the Sai Kung District with the greatest number of followers. After the Second World War, the church helped to establish Yuk Ying School, the only primary school in the village. In 1979, the chapel was damaged by a hurricane. Its clock tower was demolished when the building underwent restoration. As people gradually moved out of the village, there was a drop in the number of church followers. The chapel and the school were left unattended after they ceased operation in 1988. In recent years, the buildings are maintained by a conservation group in the parish.
「『古蹟留聲機』- 細聽100個香港古蹟小故事」計劃由衞奕信勳爵文物信託資助。
The project is supported by Lord Wilson Heritage Trust.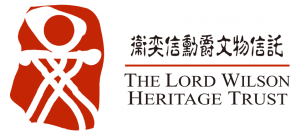 / 關於我們
CACHe於2005年成立,一直積極舉辦古蹟保育活動。我們將繼續秉承宗旨,推廣香港歷史文化,建立知識交流平台,鼓勵大眾參與社區文化遺產保育,建立社區身份認同。
/ 查詢方法
電話: 2291 0238
電郵: info@cache.org.hk
網頁: www.cache.org.hk