鳴謝劉國偉先生提供照片。 Photos courtesy of Mr Lau Kwok Wai.
評級:法定古蹟
長山古寺位於禾徑山廟徑,由於遠離市區,所以相當缺乏「人氣」。寺內最古老的文物是鑄於乾隆年間(1789年)的銅鐘,銘文指古寺原為「長生庵」。庵堂的確實興建年期已不可考,據木匾記載,現存建築是於1868年重建而成。廟徑曾是旅客經沙頭角前往深圳的必經之路,相傳該古道更是北上廣州和赴京應試的通道,所以估計庵堂不只供善信參拜,更是旅客中途休息的地方。其後庵堂改為寺院,現供奉佛祖、觀音和地藏王。
這座兩進式的建築規模不大,設計簡樸,內外均飾有寓意吉祥的灰塑,當中包括較少見於庵堂或寺廟之中的蝠、鹿、鰲魚等。
粵語:

國語:

Grading: Declared Monument
Situated in Miu Keng in Wo Keng Shan, Cheung Shan Monastery has received few visitors due to its remote location. A bronze bell cast during the reign of the Qing emperor Qianlong in 1789 is the oldest relic in the temple. The inscription on the bell shows that the temple was originally named "Cheung Sang Nunnery". It is unclear when exactly the nunnery was built. According to a wooden plaque in the temple, the existing building was constructed in 1868 in a redevelopment project. Miu Keng was once a major route providing access from Sha Tau Kok to Shenzhen. It was said that people from the past took this trail to Guangzhou and Beijing for the imperial examinations. It is therefore believed that the nunnery was not only a place of worship but also a resting point for travellers. The nunnery was later converted into a temple dedicated to the worship of Buddha, Guanyin, and Ksitigarbha.
  
The temple is a two-hall structure built on a small scale, with a plain and simple design. Both the interior and exterior are decorated with plaster sculptures of auspicious animals including bats, deer, and dragonfish, which are rarely seen in other nunneries or temples.
「『古蹟留聲機』- 細聽100個香港古蹟小故事」計劃由衞奕信勳爵文物信託資助。
The project is supported by Lord Wilson Heritage Trust.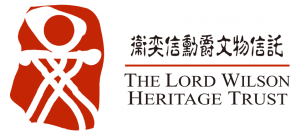 / 關於我們
CACHe於2005年成立,一直積極舉辦古蹟保育活動。我們將繼續秉承宗旨,推廣香港歷史文化,建立知識交流平台,鼓勵大眾參與社區文化遺產保育,建立社區身份認同。
/ 查詢方法
電話: 2291 0238
電郵: info@cache.org.hk
網頁: www.cache.org.hk