評級:法定古蹟
相傳文、謝兩族早於明代已經營大埔碗窰,後由馬氏族人向文氏購入窰場。碗窰村擁有得天獨厚的地理優勢,當時窰場的陶瓷生產規模龐大,不但供應中國南方沿海地區,更遠銷至東南亞國家。可惜碗窰不敵廣東沿海窰場的廉價品競爭而漸趨式微,至1930年代正式停產。窰址曾出土萬餘件文物,更有各項生產陶瓷工序的遺跡,惟都已荒廢。
上碗窰樊仙宮供奉了由廣東請來的陶瓷業守護神樊仙,屬全港唯一。參考懸掛在正廳的牌匾,估計這廟宇已有逾二百年歷史。每年樊仙誕,村民都會舉行賀誕儀式,除了在廟前上演神功戲酬神,亦會到各村巡遊。
粵語:

國語:

Grading: Declared Monument
It was said that the kiln site at Wun Yiu Village in Tai Po had been owned by the Man and Tse clans since the Ming Dynasty, and that the Ma's family later bought the kilns from the Man clan. Due to the unique geographical location of the village, the scale of porcelain production at the site was massive. The porcelain produced was supplied to the coastal area in southern China as well as some Southeast Asian countries. However, given the competition from the low price of the porcelain ware produced by the coastal kiln sites in Guangdong Province, the porcelain industry at Wun Yiu gradually declined. The kiln site in the village ceased operation in the 1930s. Over 10,000 artefacts have been unearthed from the site. While the site has long been abandoned, the remnants show how porcelain was made at various stages of production.
The Fan Sin Temple at Sheung Wun Yiu Village is the only temple in Hong Kong dedicated to Fan Tai Sin Sze, the patron saint of potters invited from Guangdong Province. From the plaque hanging in the main hall, it is believed that the temple has more than 200 years of history. Every year, ritual ceremonies are held by villagers to celebrate the birthday of Fan Tai Sin Sze. Chinese operas are performed for the god and parades are staged in different villages.
「『古蹟留聲機』- 細聽100個香港古蹟小故事」計劃由衞奕信勳爵文物信託資助。
The project is supported by Lord Wilson Heritage Trust.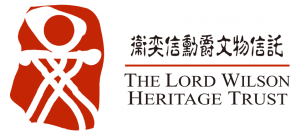 / 關於我們
CACHe於2005年成立,一直積極舉辦古蹟保育活動。我們將繼續秉承宗旨,推廣香港歷史文化,建立知識交流平台,鼓勵大眾參與社區文化遺產保育,建立社區身份認同。
/ 查詢方法
電話: 2291 0238
電郵: info@cache.org.hk
網頁: www.cache.org.hk