評級:法定古蹟
大嶼山位處珠江口,是船隻進出廣州的主要通道,亦是重要的邊防據點。清朝年間,為打擊海盜和防範英國入侵,清廷在東涌口大規模建設炮台。1832年,清廷為防英商走私,再設置東涌所城辦公。由於東涌炮台當時有官兵駐守,亦有炮台、兵房等設備,所以又名東涌寨城。
炮台的城牆由花崗石建造,約高三米。三道城門入口呈拱形,北面的正門設有城樓和炮台,共有六支大炮,惟現已不是當年守護海岸的原裝大炮。城內中心的廣場仍然保留着兩間兵房,1898年清兵撤走後曾用作警署、華英中學校舍、東涌公立學校等。
粵語:

國語:

Grading: Declared Monument
Lantau Island was an important point of coastal defence in the Pearl River estuary, a major thoroughfare for vessels passing into and out of Guangzhou. During the Qing Dynasty, the Qing government constructed a line of forts at Tung Chung Hou to defend against pirates and the British. In 1832, the Tung Chung Battalion was built to prevent British traders from smuggling. There were soldiers stationing at the Tung Chung Fort, which was built with batteries, barracks, and other facilities. The site was also known as the Tung Chung Walled
City.
The walls of the fort, built of granite, were about three metres in height. There are three arched entrance gateways. At the north gate, there is a gate tower with a battery of six cannons, which are, nevertheless, different from the original ones mounted on the site. The two barracks situated at the central square of the walled city have been preserved. After the Qing soldiers were evacuated from the fort in 1898, the site has been used as a police station as well as the campus of Wa Ying College and the Tung Chung Public School.
「『古蹟留聲機』- 細聽100個香港古蹟小故事」計劃由衞奕信勳爵文物信託資助。
The project is supported by Lord Wilson Heritage Trust.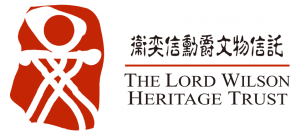 / 關於我們
CACHe於2005年成立,一直積極舉辦古蹟保育活動。我們將繼續秉承宗旨,推廣香港歷史文化,建立知識交流平台,鼓勵大眾參與社區文化遺產保育,建立社區身份認同。
/ 查詢方法
電話: 2291 0238
電郵: info@cache.org.hk
網頁: www.cache.org.hk