孖指徑山坡位於金山郊野公園,附近一帶保留了不少戰時遺跡。遺跡屬於醉酒灣防線的一部份,建於1930年代,全長18公里,沿路有不少以混凝土和鋼筋築成的防禦設施,以盡量拖延日軍進攻,待艦隊抵港支援。
其中不得不提的重要據點,是位於孖指徑北部的城門棱堡,又名城門碉堡,築有砲兵觀察所、機槍堡、戰壕和以倫敦街道命名的連接地道。其中一條地道刻有「若林隊占領」,若林東一是當年攻佔城門碉堡的日軍隊長。
可惜最終因防守鬆懈和人手嚴重不足,日軍只用了數小時便成功佔據碉堡,對整場香港保衛戰帶來重要影響。
粵語:

國語:

Smugglers' Ridge is situated in Kam Shan Country Park, near which many relics from the Second World War have been preserved. Built in the 1930s, this 18-km War Relics Trail formed part of a defence line, known as the Gin Drinkers Line. Many reinforced concrete structures were built along the trail for military defence. They were intended to hold back the Japanese army before the supporting fleet arrived.
  
An important defence point that must be mentioned is the Shing Mun Redoubt, located on the north end of Smugglers' Ridge. It consists of an artillery observation post, pillboxes, firing trenches, and a network of tunnels named after the streets of London. Included in the redoubt is the name Wakabayashi Toichi, a commander of the Japanese army who led the invasion of the redoubt. After the attack, the phrase "Captured by Wakabayashi's unit" was carved on the wall of one of the tunnels.
  
Given the loose defence and a serious shortage of soldiers on the front line, it only took the Japanese army a few hours to capture the redoubt. The loss of the redoubt had a significant impact on the Battle of Hong Kong.
「『古蹟留聲機』- 細聽100個香港古蹟小故事」計劃由衞奕信勳爵文物信託資助。
The project is supported by Lord Wilson Heritage Trust.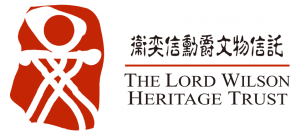 / 關於我們
CACHe於2005年成立,一直積極舉辦古蹟保育活動。我們將繼續秉承宗旨,推廣香港歷史文化,建立知識交流平台,鼓勵大眾參與社區文化遺產保育,建立社區身份認同。
/ 查詢方法
電話: 2291 0238
電郵: info@cache.org.hk
網頁: www.cache.org.hk