評級:法定古蹟
在1899年英國接管新界時,殖民地政府在大埔圓崗山丘舉行升旗儀式,與村民爆發激烈的「新界六日戰爭」,村民終無力反抗、相繼投降。殖民地政府正式接管新界後,隨即在山丘上興建新界首座理民府大樓和警署,在一覽無遺的最高點上建立管治中心。
北區理民府於1907年建立,職責廣泛,包括處理地方行政、土地註冊、生死註冊、仲裁等,連新界早期的道路發展、水電供應等基礎建設也是在大樓內進行規劃。理民府大樓更曾設有裁判司法庭以審裁案件,後於1961年停用。
1982年各區理民府改為政務處,大樓亦於1983年停用,現為羅定邦童軍中心。
粵語:

國語:

Grading: Declared Monument
In 1899, a flag-raising ceremony was held by the colonial government on the Flagstaff Hill in Tai Po to mark the British takeover of the New Territories. It later turned into a fierce battle, which became known as the "Six-Day War" between the British and local villagers. Unable to resist enemy attacks, the villagers finally surrendered. Immediately after it took over the area, the government built the first district office and police station in the New Territories, which were set up as a centre of governance on the highest point of the hill overlooking the entire region.
Established in 1907, the Old District Office North, Tai Po was responsible for handling a wide range of work, including district administration affairs, land registration, birth and death registration, and arbitration matters. The planning of infrastructure development, including the construction of roads and the supply of water and electricity in the New Territories during its early days, was also carried out in the District Office. A Magistrate's Court was once established in the building to try cases but ceased to operate in 1961.
The structure of District Offices changed due to the reformation of district administration in 1982, the building of the Old District Office North, Tai Po ceased service in the following year. Currently, the building is used as the Law Ting Pong Scout Centre.
「『古蹟留聲機』- 細聽100個香港古蹟小故事」計劃由衞奕信勳爵文物信託資助。
The project is supported by Lord Wilson Heritage Trust.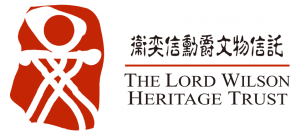 / 關於我們
CACHe於2005年成立,一直積極舉辦古蹟保育活動。我們將繼續秉承宗旨,推廣香港歷史文化,建立知識交流平台,鼓勵大眾參與社區文化遺產保育,建立社區身份認同。
/ 查詢方法
電話: 2291 0238
電郵: info@cache.org.hk
網頁: www.cache.org.hk