評級:三級歷史建築
  狗總是人類最忠心的好朋友。在大澳就有一個毫不起眼、但全港只有唯一一座的石狗神壇。神壇面積細小,門面不如一般廟宇般光鮮,中間豎立了一個斷頭的石狗像,受長時間風化後只剩下半身的手腳部份,而頭部於何時斷掉已無從稽考。有學者估計這尊石狗像是來自傜、輋兩族的狗崇拜習俗。相傳供奉石狗有驅難治魔、守護族群的效果;因為狗通常一胎多子,亦寓意後代繁盛。大澳居民現時也會拜石狗像以祈求平安。
  神壇內還有象徵土地公的人形石頭、刻有佛教「南無阿彌陀佛」的石碑和觀音像,這裏的神靈世界相當多樣化。
粵語:

國語:

Grading: Grade 3
Dogs are the most loyal friends of humans. In Tai O, there is a shrine with a stone statue of a dog, the only one of its kind in Hong Kong. Unlike other temples constructed with grand architecture, the shrine is small and inconspicuous, with a decapitated dog statue in the centre. The statue has been badly damaged by years of weathering, with only the lower limbs of the dog left. It is unclear when the head of the statue fell off. Some scholars think that the statue originated from the dog-worshipping tradition of the Yao and She tribes in southern China. It was believed that by worshipping the dog statue, evil spirits could be driven away. To the tribes, dogs — which give birth to many babies at one time — are regarded as a symbol of fertility. Nowadays, some Tai O residents still worship the dog statue to pray for peace and well-being.
Apart from the dog statue, there are a man-shaped stone that symbolises the Earth God, a stone tablet inscribed with the Chinese characters of "Namo Amitabha Buddha", and a statue of Guanyin, showing a diversity of deities honoured in the shrine.
「『古蹟留聲機』- 細聽100個香港古蹟小故事」計劃由衞奕信勳爵文物信託資助。
The project is supported by Lord Wilson Heritage Trust.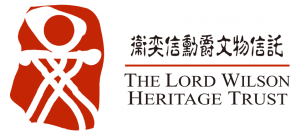 / 關於我們
CACHe於2005年成立,一直積極舉辦古蹟保育活動。我們將繼續秉承宗旨,推廣香港歷史文化,建立知識交流平台,鼓勵大眾參與社區文化遺產保育,建立社區身份認同。
/ 查詢方法
電話: 2291 0238
電郵: info@cache.org.hk
網頁: www.cache.org.hk