評級:二級歷史建築(坪洲公立志仁學校1935年的校舍)
昔日離島區的交通尚未發達,學童只能入讀島上的學校。1927年,坪洲居民創建坪洲公立志仁學校,是島上首間學校。當時校舍只屬臨時性質,位於出租單位之中,至1935年在居民捐款和政府撥地資助下,校舍才得以正式落成。戰後學童不斷增加,學校要擴建校舍,高峰時有四百多名學生。學校在2006年因收生不足而停辦,但仍是島上重要的文化活動場所,在每年舉辦的「禡行鄉」——天后出巡儀式中,學校操場都會開放予巡遊隊作休息站。戰後加建的北面校舍現已被拆卸,雖然2013年政府將其改為住宅用途時引來強烈反對,但這座培育了數代人的學校仍無法保留全貌。
粵語:

國語:

Grading: Grade 2 ( School building of 1935)
In the past, due to the lack of transportation, children living in the Islands District could only attend schools on the islands. In 1927, Peng Chau residents founded Peng Chau Chi Yan Public School, the first school on the outlying island. At the time, an existing building was rented as a temporary site for the school. It was until 1935 that a school building was completed, with donations from the residents and land allocated by the government. After the Second World War, there was an increasing number of school-age children in Hong Kong, and the school campus was expanded. At its peak, there were more than 400 students studying at the school. In 2006, the school ceased operation due to insufficient enrolment, but it remains as an important cultural venue on the island. Every year, during the traditional Tin Hau parade in Peng Chau, the school playground opens and serves as a resting station for people joining the procession. The extension block on the north side of the campus, which was built after the war, has been demolished. In 2013, despite strong opposition from the public, the government converted the block into residential use, and the school, which had nurtured several generations of islanders , was unable to be preserved completely.
「『古蹟留聲機』- 細聽100個香港古蹟小故事」計劃由衞奕信勳爵文物信託資助。
The project is supported by Lord Wilson Heritage Trust.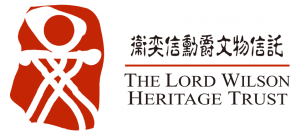 / 關於我們
CACHe於2005年成立,一直積極舉辦古蹟保育活動。我們將繼續秉承宗旨,推廣香港歷史文化,建立知識交流平台,鼓勵大眾參與社區文化遺產保育,建立社區身份認同。
/ 查詢方法
電話: 2291 0238
電郵: info@cache.org.hk
網頁: www.cache.org.hk