評級:二級歷史建築
積存圍建於明朝萬曆二年(1574年),是昔日「瀝源九約」裏最大的圍村,所以又名大圍。清朝年間盜賊肆虐,二十多姓的村民便一起建成積存圍防盜。其中韋氏成員最多,圍內更有一座韋氏祠堂。
積存圍呈長方形,走進圍門,直巷的盡頭是侯王宮,兩旁各排列着五條狹窄的橫巷,井然有序。圍村的圍牆早已拆去,作防衛之用的炮樓約於1920年代倒塌,村內大部份房屋亦已翻新,僅存的圍門是昔日圍村風貌碩果僅存的遺跡。圍門刻有積存圍三字,有「積善」及「存仁」之意,兩側貼有對聯。圍門內有土地公的神位,村民至今仍會到圍門供奉。
粵語:

國語:

Grading: Grade 2
Built in 1574, the second year of Wanli in the Ming Dynasty, Chik Chuen Wai is the largest walled village among those in the "Nine Alliances of Lek Yuen". It is therefore granted the name "Tai Wai", meaning "big village" in Chinese. During the Qing Dynasty, bandits and thieves were rampant. Chik Chuen Wai, a village surrounded by walls, was built by villagers from over twenty different clans, as an attempt to prevent theft. The Wai family was the biggest clan in the village, where the Wai Ancestral Hall can be found.
 
The village is rectangular in shape. Passing through the entrance gate and going straight inside, you'll see Hau Wong Temple at the end of the alley. Five narrow horizontal lanes are arranged in an orderly form on both sides. The walls that enclosed the village have long been removed. In the 1920s, the defence tower collapsed and the rest of the houses in the village were renovated. The entrance gate is one of the few relics left on the site that shows the features of the old Chinese walled villages. The gate is inscribed with the Chinese characters of "Chik Chuen Wai", which means accumulating virtue and having a good heart. A couplet is displayed on the two sides of the gate. Inside the gate stands a shrine dedicated to the Earth God, which is still worshipped by the villagers today.
「『古蹟留聲機』- 細聽100個香港古蹟小故事」計劃由衞奕信勳爵文物信託資助。
The project is supported by Lord Wilson Heritage Trust.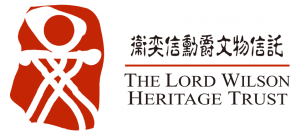 / 關於我們
CACHe於2005年成立,一直積極舉辦古蹟保育活動。我們將繼續秉承宗旨,推廣香港歷史文化,建立知識交流平台,鼓勵大眾參與社區文化遺產保育,建立社區身份認同。
/ 查詢方法
電話: 2291 0238
電郵: info@cache.org.hk
網頁: www.cache.org.hk