在天后宮旁邊的垃圾站,山坡下隱藏着一個鮮為人知、全港唯一一座藥方石刻。石刻的刻鑿年份已無從稽考,上面的文字分散於石面各處,只能勉強辨認出部份,估計內容與醫治小兒腹瀉的藥方有關。
石刻在1982年因清拆寮屋而發現,但未受妥善保護。石刻附近既堆放了大量建築材料,上方又有民居排出污水,加上長年受自然風化所侵蝕,石刻文字變得模糊不清。直到1988年區議員反映情況,才進行防止石刻受污水侵蝕的工程,並於石刻附近設置牌匾介紹。石刻會隨自然風化而變得更難以辨識,大家不妨趁石刻尚未完全消失前去尋找尚可辨認的文字。
粵語:

國語:

Beneath a slope near the Tin Hau Temple and the refuse station in Cheung Chau is a rock carving known to a few. It is the only rock carving in Hong Kong that has a medical prescription on it. It is unclear which year the carving was made. The text on the carving is scattered across the surface of the rock. Only parts of it can barely be identified. It is believed that the text is related to a prescription for infantile diarrhoea.
  
The rock carving was discovered in 1982 in a squatter clearance operation. However, it wasn't properly protected at the time. Stacks of construction materials were piled up close to the carving, above which there was sewage discharged from nearby residences. In addition to the above, years of weathering and erosion have also caused the characters to fade and become hard to discern. In 1988, the situation was brought forward by a district councillor. It was until then that works were carried out to prevent the carving from being eroded by sewage. A plaque was also placed on the site to introduce the rock carving. While the rock may be further damaged by natural weathering, it is a good idea to visit the site and try to read the text before the carving completely disappears.
「『古蹟留聲機』- 細聽100個香港古蹟小故事」計劃由衞奕信勳爵文物信託資助。
The project is supported by Lord Wilson Heritage Trust.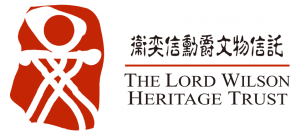 / 關於我們
CACHe於2005年成立,一直積極舉辦古蹟保育活動。我們將繼續秉承宗旨,推廣香港歷史文化,建立知識交流平台,鼓勵大眾參與社區文化遺產保育,建立社區身份認同。
/ 查詢方法
電話: 2291 0238
電郵: info@cache.org.hk
網頁: www.cache.org.hk