評級:二級歷史建築六座(主屋、前屋、穀倉、東更樓、西更樓及鄰接東更樓的小屋)
袁氏大屋由中華民國國民黨前委員、在梅窩無人不曉的袁華照所建,估計建於1920至1940年代,屋頂山花刻有「裕德利圍」。大屋各建築均以花崗石建造,位處河口位置,門前更設有古炮,看似一座堡壘。
袁氏大屋的東、西邊均建有更樓,樓高三層,堅固的石牆可抵禦槍炮攻擊,牆身四面開有小窗口、設有槍孔,具監視和還擊的作用。二戰期間,兩座更樓曾發揮暸望塔和防禦日軍侵襲的功能。
袁氏大屋雖然是本地罕見且保存完整的堡壘式建築,但因日久失修而變得破落,其中主屋的頂樓頂層更在2016年倒塌,其餘建築亦面臨倒塌危機。
粵語:

國語:

Grading: Grade 2 (Main House, Front House, Barn, East Watchtower, West Watchtower & Small House
attached to East Watchtower)
Yuen's Mansion was built by Yuen Wah-chiu, a former Kuomintang officer who was known to everyone in Mui Wo. The house was believed to be constructed between the 1920s and 1940s, with the pediment engraved with the Chinese characters of "Yu Tak Lee Wai", the name of Yuen's farm. Situated at the estuary of a river, the compound is made of granite blocks. An old cannon is placed in front of the door, making the site look like a fort.
There is a three-storey watchtower on both the east and west sides of the mansion. The stone walls of the towers are strong enough to withstand attacks from guns and explosives. Small windows and gun embrasures can be found on all four sides of the towers, for monitoring and fighting enemies. During the Second World War, the two buildings served as guard towers and defended against attacks from the Japanese army.
  
Yuen's Mansion is a fortified estate of a kind rarely found in Hong Kong. While it has been kept intact, the compound has deteriorated due to the lack of maintenance. Some parts of the roof of the main house fell down to the ground in 2016. The rest of the buildings on the site are also in danger of collapse.
「『古蹟留聲機』- 細聽100個香港古蹟小故事」計劃由衞奕信勳爵文物信託資助。
The project is supported by Lord Wilson Heritage Trust.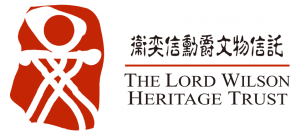 / 關於我們
CACHe於2005年成立,一直積極舉辦古蹟保育活動。我們將繼續秉承宗旨,推廣香港歷史文化,建立知識交流平台,鼓勵大眾參與社區文化遺產保育,建立社區身份認同。
/ 查詢方法
電話: 2291 0238
電郵: info@cache.org.hk
網頁: www.cache.org.hk