評級:二級歷史建築
由八鄉各村落組成的同益堂在1921年集資興建了八鄉同益學堂,是首間設有現代校舍的鄉村學校,後來改名為八鄉同益公立學校。校舍原為金字屋頂,但在二戰期間遭炮火毀壞,戰後得到殖民地政府補助,修補成現時所見的平頂建築。
學校見證了香港村校發展的黃金歲月,自1950年起,香港人口激增、適齡學童學習需求增加,村校有如雨後春筍,高峰時同益學堂曾有近600名學生,另設同益中學和夜校。至1980年代,香港出生率下降,不少村校逃不過「殺校」危機。學校在2003年與石湖學校合併成現時的八鄉中心小學,並開始招收非華語學生。
粵語:

國語:

Grading: Grade 2
Pat Heung Tung Yik School was built in 1921 with funds collected by Tung Yik Tong, an organisation founded by villagers in Pat Heung. Later renamed Pat Heung Tung Yik Public School, it is the first village school in Hong Kong with a modern campus. The original pitched roof of the school building was damaged by bombs and fire during the Second World War. After the war, with a subsidy from the colonial government, the building was repaired and modified into the current flat-roofed structure.
Tung Yik School witnessed the golden age of village schools in Hong Kong. The city's surging population since the 1950s led to a drastic increase in the number of school-age children and the emergence of many village schools. At its peak, there were nearly 600 students studying in Tung Yik School, and the school offered secondary and evening school programmes at the time. In the 1980s, many village schools had to be closed due to a declining birth rate. In 2003, Tung Yik School merged with Shek Wu School and became what is now known as Pat Heung Central Primary School, and has since started to recruit non-Chinese speaking students.
「『古蹟留聲機』- 細聽100個香港古蹟小故事」計劃由衞奕信勳爵文物信託資助。
The project is supported by Lord Wilson Heritage Trust.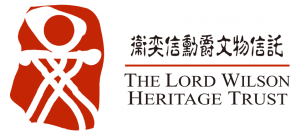 / 關於我們
CACHe於2005年成立,一直積極舉辦古蹟保育活動。我們將繼續秉承宗旨,推廣香港歷史文化,建立知識交流平台,鼓勵大眾參與社區文化遺產保育,建立社區身份認同。
/ 查詢方法
電話: 2291 0238
電郵: info@cache.org.hk
網頁: www.cache.org.hk