這個隱藏於大連排工廠區後面的隱世公園,環境清幽、人流稀少,甚至連街坊都不認識它。
1986年啟用的中葵涌公園前身是由楊氏和曾氏經營的兩個牧牛場。1960年代的牛房養着數十頭乳牛,山邊還有大片青草地供乳牛食用,出品的鮮奶會供應給九龍維記和牛奶公司,後於1970年代初結業。公園中有一座鋪上灰磚的舊式平房,樓高三層,有寬敞的遊廊和弧形轉角設計。有說平房為牛場辦事處,又有說是牧場主人居所和員工飯堂,如今則用作公園管理處。園內還有一座栩栩如生的石製牛雕塑,據說是負責設計公園的設計師特意放置,以紀念牧場歷史。
粵語:

國語:

Hidden behind the industrial buildings in Tai Lin Pai, this secluded park is a quiet and uncrowded place that very few people, including those in the neighbourhood, seem to know about.
  
Opened in 1986, the Central Kwai Chung Park was formerly two cattle farms run by Yang and Tsang. In the 1960s, there were dozens of cows kept in the barn, and they were fed on a large pasture near the hill. The milk produced was supplied to the Kowloon Dairy and the Dairy Farm Company. The farms were closed in the early 1970s. In the park, there is a three-storey old-style cottage finished with grey brick, featuring wide verandahs and a curved corner. Some said that the cottage was the office of the barn, while others believed that it was the home of the barn owners and staff canteen. Currently, it is used as the park's management office. There is also a stone sculpture inside the park that vividly depicts a crouching cow. It is said that the sculpture was intentionally placed there by the designer of the park to commemorate the history of the cattle farms.
「『古蹟留聲機』- 細聽100個香港古蹟小故事」計劃由衞奕信勳爵文物信託資助。
The project is supported by Lord Wilson Heritage Trust.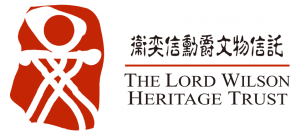 / 關於我們
CACHe於2005年成立,一直積極舉辦古蹟保育活動。我們將繼續秉承宗旨,推廣香港歷史文化,建立知識交流平台,鼓勵大眾參與社區文化遺產保育,建立社區身份認同。
/ 查詢方法
電話: 2291 0238
電郵: info@cache.org.hk
網頁: www.cache.org.hk