評級:三級歷史建築
汝州街269及271號唐樓,建於1920年代初,樓高三層,曾有海味雜貨店在此經營多年。唐樓的騎樓以方柱支撐於行人路上,是典形的戰前唐樓設計。它特別在於其位處汝州街和桂林街交界的轉角位置,因此271號的外牆用上圓角設計,是香港現存為數不多的弧形轉角唐樓之一。
唐樓早年曾進行翻新,在米白色的外牆上鋪上啡色紙皮石,連舊店「裕棧海味」的商號也被覆蓋。唐樓曾用作不同用途,經歷多次改建,昔日面貌早不復見。古物諮詢委員會曾將唐樓列為二級歷史建築,後來改評為三級。
粵語:

國語:

Grading: Grade 3
The three-storey Chinese tenement located at 269 and 271 Yu Chau Street was built in the early 1920s. For many years, there were shops selling groceries and dried seafood products. The verandah of the building is supported by square columns — a design typically seen in pre-war tenement houses. As the building is located at the corner of Yu Chau Street and Kweilin(桂林) Street, it has a curved corner facing the junction of both streets, making it special. As a matter of fact, it is one of the few corner buildings left in Hong Kong.
The tenement was renovated years ago, with its beige facade refinished with brown mosaic tiles, covering the name of a dried seafood store once located there. Having been altered several times, the building no longer looks the same as it did in the past. It was listed as a Grade II historic building by the Antiquities Advisory Board, but was later reclassified as Grade III.
「『古蹟留聲機』- 細聽100個香港古蹟小故事」計劃由衞奕信勳爵文物信託資助。
The project is supported by Lord Wilson Heritage Trust.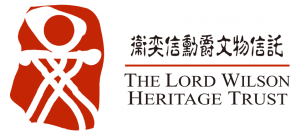 / 關於我們
CACHe於2005年成立,一直積極舉辦古蹟保育活動。我們將繼續秉承宗旨,推廣香港歷史文化,建立知識交流平台,鼓勵大眾參與社區文化遺產保育,建立社區身份認同。
/ 查詢方法
電話: 2291 0238
電郵: info@cache.org.hk
網頁: www.cache.org.hk